These past two months, Rachel and I have designed two kitchens that needed bar stools. Bar stools need higher seats at about 28–30 inches or so. Not every manufacturer makes a bar stool, so we had to hunt for the perfect styles for our kitchen designs.
Today's On Trend Styles:
Industrial Chic
Our first kitchen had dark cabinets and light stone backsplashes. We wanted to bring out the metal to the reclaimed wood island and decided to feature an industrial metal bar stool. We found the Ferrer Bar Stool in galvanized metal available online from Nuevo.
By blending the metal with the dark woods and the found materials, we were able to design texture into the space. By layering shiny and matte finishes, the kitchen feels custom designed. In this kitchen, shine was the most important visual design element to bring forward to the island.
Contemporary Zen
Our second kitchen has a loft and a Balinese feel that we call Contemporary Zen. The kitchen is constructed of cement walls and cork floors. We mixed elements that are more unexpected in Western culture. For this bar-height counter, we selected a rattan bar stool from Hollywood at Home.
The "How to Marry a Millionaire" custom bar stool gives a textural element to the room like a basket would. The refined woven texture softens the look of the cement walls and counter tops. In this design, the woven texture of the bar stool helped make the island pop.
Transitional Luxe
In our third kitchen, we have a counter-height island that needed a lower seat at 24–26 inches. We hunted around and found a wonderful option from Restoration Hardware.
This bar stool offsets the white cabinetry and the oak island with a rustic wood finish. The rounded backs soften all the squares the cabinetry presents to the eye. We like the casual cream juxtaposed to the refined French frame. For this kitchen, it was important to break up the hard lines of the island with the curve of the bar stool back.
Your Stools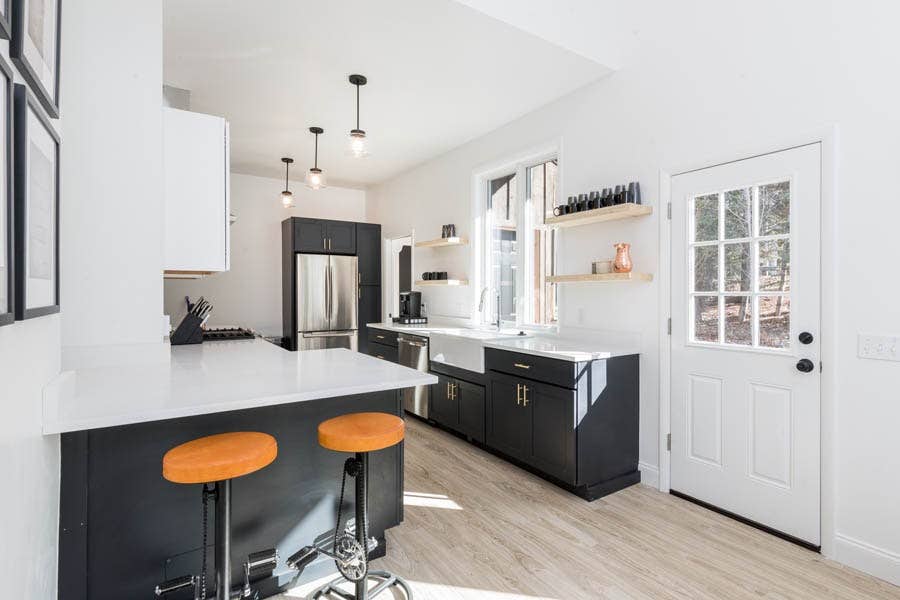 What to look for? Here are some ideas to look for when searching for the perfect bar stool for your kitchen or entertaining space:
1) Height – Make sure you measure how high you need your stools. The stool seat height can vary up to 4 inches within one category, so look at the dimensions and make sure to consider the seat cushion height as well. Cushions can add about 2–3 inches on top of the frame. Usually manufacturers will specifically list the seat height with the dimensions.
2) Style – Think about blending styles if you feel comfortable. If everything matches in a kitchen, it can easily feel dated. Try mixing French with modern or industrial with elegance. This will help your kitchen feel custom designed, and it allows for unique accents that personalize the space.
3) Materials – Try to find materials that are repeated in your existing kitchen design for your bar stools. If you have a bit of stainless, bring that out in the frame of your bar stool. With a burnished faucet material, bring it forward into your stool frame. Finally, if the legs are a dark wood on your stool, add a few dark accents on your countertops.
4) Color – Think about what color would help either blend or pop out of your design. A punch of lime or orange can bring a modern kitchen to life. Another approach is to have the stools blend with your design so that you automatically look past them into your main kitchen space.