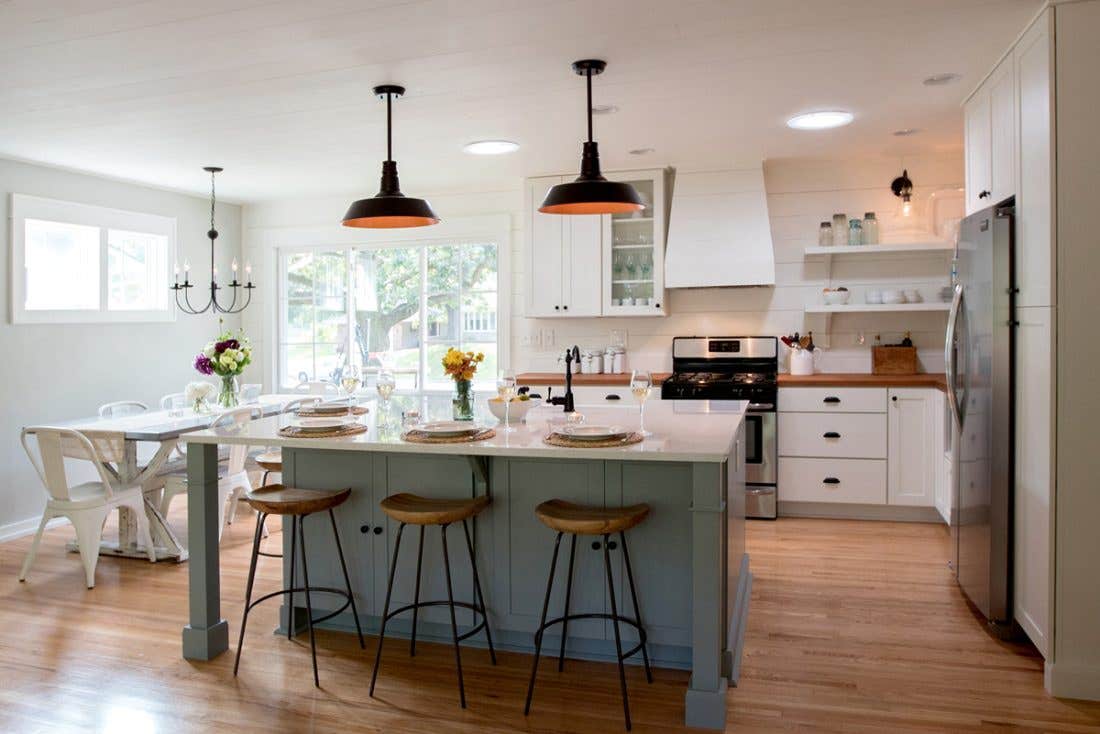 Love the warmth and simplicity of the Farmhouse style? You can add elements to your everyday kitchen to bring that comfortable homeyness to your existing space. Here are few ideas for blending the Farmhouse Style into your kitchen design today.
Change out your pendant lights
Change out your pendant lights to the schoolhouse or industrial looking style readily available at Pottery Barn and Restoration Hardware. Look for simple shapes with more of a barn or vintage industrial feel.
Add a wooden surface to your counter top area
One of the easiest ways to add that old worn feel to a space is to look for a worn breadboard for one of your counter tops. Rummage through antique stores for an old surface and clean thoroughly before use. Wooden surfaces can blue-gray bacteria, so if you're concerned about its origin consider using it for display.
Display collectible crockery
Display collectible crockery in open shelves and/or around your counter. Yellowware is a popular collectible and the finish is quite beautiful. McCoy mixing bowls are another popular option for display.
Add enamelware to your display areas
White or colored enamelware is another great texture to add to your open shelves, or take a tray or platter and stand upright against your back splash areas for more visual interest.
Mix in vintage stools or chairs
Lots of great chairs and stools can be found on Craigslist or in stores like TJMaxx and Homegoods. Even if they are the wrong color, the style is what is most important. Look for ladder-back or spindle-back designs. Sand, prime and spray-paint your favorite shapes for the eclectic look.
Paint your kitchen floor
To add some texture and subtle ambiance to a new remodel, try painting the fir floor to look like an old farmhouse kitchen. Place braided or cloth rugs across the surfaces and you've transformed the space!
See this Houzz entry for additional ideas for creating a Farmhouse style kitchen. And for more design inspiration, see the NKBA's top 5 kitchen design trends for 2012.