Spring has officially sprung, and if you're like most people, you're still a little behind on your spring cleaning. This year, in between cleaning out your closet and venturing into those bottomless junk drawers, don't forget to take a thorough pass through your kitchen. Even though you visit this space daily, and probably give it a good wipe-down once per week, you'd be surprised at the mess that can build up when kitchen organization is not top of mind.
"A place for everything and everything in its place" is a good theme for spring cleaning. Get ready and arm yourself with your favorite sprays, cleaning cloths and rubber gloves, it's time to get your kitchen clean, organized and ready for summer!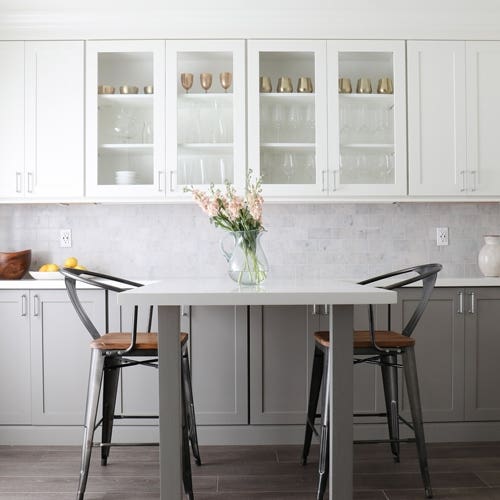 1. Start with the drawers and cabinetry
Drawer by drawer and cabinet by cabinet, take out all your dishware and kitchen items. When it's empty, wipe out the interior and really get into the corners where dust and debris like to gather. Dust can build up in your dishware too, so make sure to give it some cleaning attention if needed. Your cabinets are the key to kitchen organization!
2. Reorganize if needed
Perhaps you'd like to have coffee cups closer to the coffee maker, or maybe the glassware used on special occasions doesn't deserve its prime location. Whatever the case, there's no better time to reorganize than when your shelves and drawers are empty and you have a clean slate.
3. Ask yourself, "Do I need this?"
We all have things we've bought, used a few times, and then never touched again. Now is the time to declutter! While cleaning, set aside the items you haven't used in the past year or two and evaluate if it's something you need. Even though you haven't used that crockpot in a while, it's still a good item to have around. But your daughter's toy cotton candy machine? It'll look better at a garage sale, on Craigslist, or on the shelf at Good Will.
4. Tidy up the pantry
To clean your pantry, repeat the same process you used on the kitchen cabinets. Take everything out, wipe up the mess, and reorganize as you put the items back in place. Keep an eye out for expired food. Remember there's a place for everything, and expired food should be placed in the garbage. Also, set aside the items you won't eat for donation.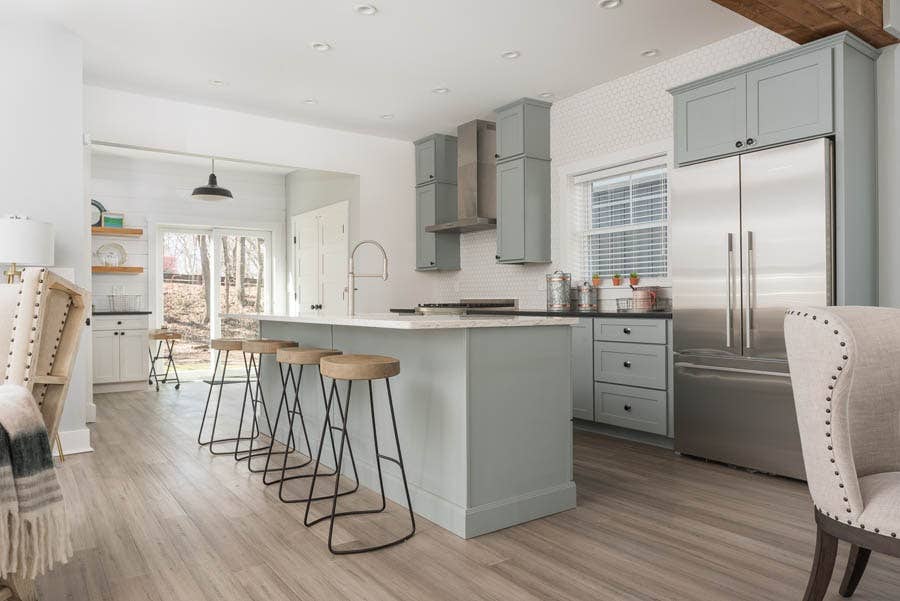 5. Refresh your refrigerator
Moisture, bacteria and food don't mix. You'll want to take everything out of your refrigerator and freezer and give it all a good wipe-down. If you can, take out the shelves and drawers and clean the undersides. As you take the food out, toss what's no longer good and what you won't eat.
6. Free your freezer
Some freezers are prone to ice build-up, and it should be a yearly activity to clear this ice away. A handy trick is to remove all the food, prop open the lid or door, and point a portable fan into the freezer. After a few minutes of warm air circulating across the ice, you'll be able to gently knock off ice chunks with a hammer. Be careful not to damage sides of freezer! As you move your foods back in, use baskets to organize, and throw out old and freezer-burned items.
7. Cabinets, counters and floors
Last but certainly not least, with the interiors clean, move on to the exteriors. The major appliances, sink, floors, counters and cabinetry are the obvious hotspots, but don't forget about windows, baseboards, handles and pulls, small appliances, walls and light fixtures — these need some attention every now and again too!
To keep your cabinets looking great, check out our cabinetry care and cleaning guide.
What are you spring and kitchen organization strategies? Share your ideas in the comments!