Easy DIY projects for your New Years Eve party!
December 30, 2016CliqStudios Social MediaNo comments
I'm sure that we are all attending some sort of fabulous function that requires a ball gown or tuxedo this New Years Eve.  You've already got something shimmery or lacey laid out in your dressing room, no doubt.  That said, we do understand the sad reality that sometimes those types of plans catastrophically fall through.  In case that happens, and you end up celebrating, or even — GASP! — hosting at home, we've put together a short list of simple do-it-yourself projects that will bring a festive flair to your home for NYE!
Customized Champagne Glasses
We're borrowing this concept from Kim over at The TomKat Studio.
Kim used her Cricut Explore Machine™ and Cricut design software to design custom vinyl lettering in the shapes of 2-0-1-7.  She acheived an elegant look by using a modern "sans-serif" font and white vinyl, and applied them to the outside of champagne glasses.  This look is especially sleek when offset by the tiny bubbles of sparkling wine!
For those of us without such fancy equipment, you may be able to find a suitable stand-in at your local hardware store!  Head to the aisle with the mailboxes and house numbers.  Look for labels that say "die cut" or "cut vinyl," which means the won't have any colors or borders, and will be just the numbers themselves. Standard sizes usually range between one, two, and three inch heights, so make sure to pick a size that matches the glasses you're using.
NOTE:  These number-stickers are meant for the outdoors and have a self-adhesive backing that stands up to the elements.  You may want to pick up four inexpensive wine glasses for this project, as the "house numbers" are likely to put up a fight when you remove them.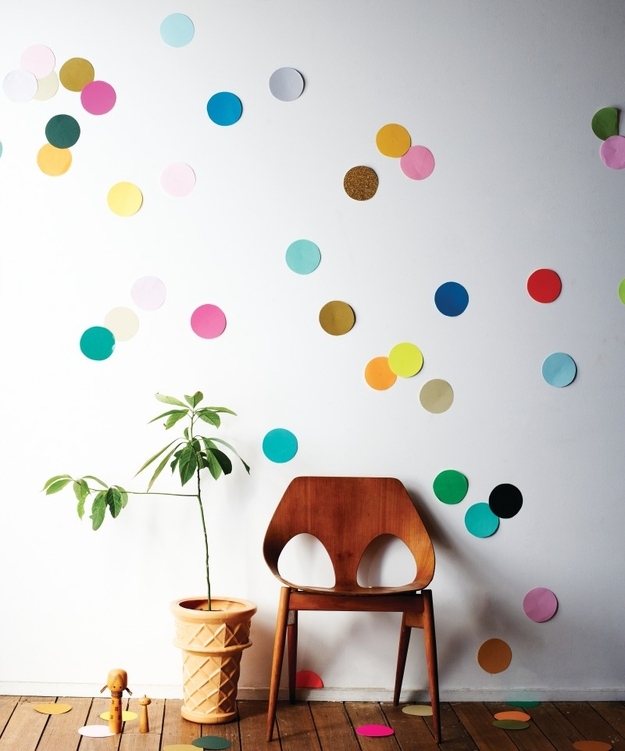 GIANT Confetti Wall Mural
A simple and super fun way to jazz up a boring wall!  Maybe you've got that one ugly white wall in your entryway or hall that you just don't know what to do with.  Or perhaps you want to instantly transform you living room into an unmistakable party room for your guests.  Either way, there's a couple ways to get your walls into a party mood.
One way is use multi colored paper.  Trace circles onto the paper using glasses, cans, or any other circular object.  You may want to use different sizes to really make your walls pop.  As this is supposed to be, after all, "giant" confetti, make those circles big and bold — they'll look a lot smaller on your walls!  Use masking tape rolled up into a loop or removable double-sided tape so they come off easily next year.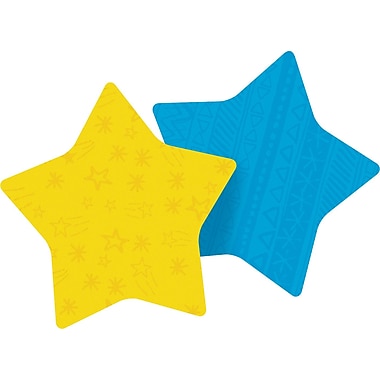 Another approach is to use self-adheve notes — but not to leave notes!! These days the old yellow standby note pads come in not just many colors, but many different shapes as well.  Stop by your local office supply store or the stationary isle of your favorite department store and have a look around.  You may be suprised to see how many of those shapes can be easily re-purposed for your party wall!
We suggest combining your hand-cut circles, with artfully aranged star-shaped sticky notes to create a truly unique wall that will surely appear in many selfies!
Up-Cycled Soup Can Lanterns
This video labels them as "outdoor," but they will look just as stunning inside your home.  Pick up a can of 'shimmer' or 'metallic' spray paint, and go to town!  Once the paint is dry, simply place a tea light inside each 'can,' light, and enjoy!  Picture a grouping of these as a luminous centerpiece! Or, scatter them on shelves and end tables, and imagine your home's every corner bathed in their warm glow, casting dancing shadows on your walls.
NOTE:  To use indoors, DO NOT drill holes in the top, and make sure the "open" end of the can is pointing up.  This lets the flickering light dance on your ceiling, and your furniture will thank you as the can itself will catch any dripping wax.
CAUTION:  Be careful not to set these lanterns too close to drapers or anywhere else they may get covered by an errant blanket or jacket.  At midnight, be mindful of any confetti that may drift toward any open flames.
Happy New Year from everyone at CliqStudios!