There's nothing that excites me more about a design than stepping out of the norm. By adding decorative details and mixing the finishes of the cabinetry, I truly enjoyed working on this project. It's the largest kitchen design I've ever done!
The Client
From my first phone call with Heather, I knew this was going to be a fun and challenging project. Heather's Connecticut home has a very large kitchen. However, she was struggling with outdated white cabinetry and lack of pizzazz when it came to cooking and entertaining. Heather had a lot of ideas about what she was looking for in her new kitchen. She made sure there were elements of the color red in my design.
The Assignment
Since this was the largest space I had ever done, I was excited to begin immediately. Heather wanted to make sure that I understood the importance that she had space to entertain, to cook, and to show off the unique items she collected throughout her travels over the years.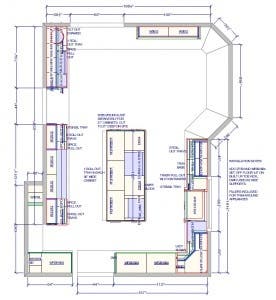 The Cabinetry
Heather described her disappointment while shopping around for cabinetry from big box stores and custom shops. She told me she received a custom quote for more than $100,000. For such a high price, she still found herself disappointed with the glaze on their samples. As she told me, "they look like someone took a Sharpie to them!"
By hearing her struggles, I knew sending her free samples of our Fairmont inset door style (now discontinued) in a Medium Wood Stain finish and Decorative door style in the bold red Painted Red finish would show her exactly what she was going to get by ordering her cabinetry from CliqStudios. The samples thrilled her and she immediately began shopping for a matching countertop and window coverings!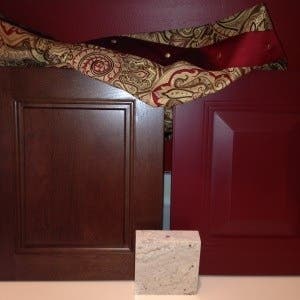 The Design
I have a hard time knowing where to begin when I describe the design of this kitchen. There are so many elements to this space that was very exciting to incorporate into my design. Heather chose to use the Fairmont inset cabinets with the Medium Wood Stain finish to surround her kitchen. To design the island, wine bar, dining room hutch, and bathroom/mudroom, she chose the Decorative Painted Red. I had to make sure to accommodate her large 60" 8-burner range and 72" French door refrigerator, create two beverages areas, and add plenty of storage solutions to keep her counters clutter-free.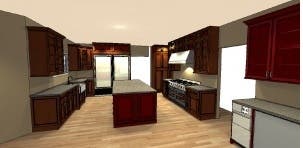 The main kitchen surround has all upper glass cabinets to show off her beautiful dishes and travel collectibles. Most of the lower cabinets were perfectly set up for plenty of storage. I incorporated a super lazy susan, two spice rack pull-outs, two utensil trays, a trash pull-out for two containers, and plenty of roll-out trays for easy reaching into the cabinets.
The large 108" island also has roll-out trays for easy reach and a specialty knife block hidden in a drawer to keep her countertop clean.
The wine bar was designed to have its own sink area with a spice rack pull-out tray and tilt-out drawer for extra storage. The upper cabinets are also glass to show off her collection of white and red wine glasses. Additionally, they would hold beer glasses and mugs for easy entertaining.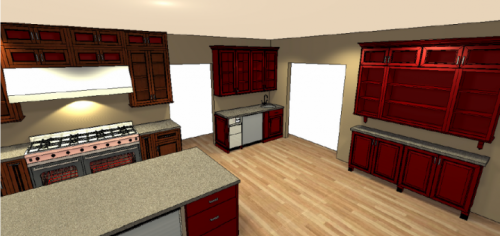 The hutch on the far wall dining area are glass door cabinets stacked on top of open shelf cabinets with finish molding. The bottom cabinets are our standard two-door 12" deep wall cabinets finished with tapered leg support accents.
Lastly, the bathroom/mudroom has plenty of tall wall cabinetry for storage around the stackable LG Washer and Steam Dryer in the Wild Cherry Red color. There is also a sink and small vanity to the left of the washer/dryer space.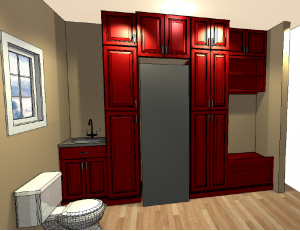 The Result
Heather was extremely excited during the design process and especially loved our 3D view of her kitchen. The design only took a couple of weeks from our first conversation to the final packet and she could barely contain her excitement to place her order. She loves her new kitchen and has already started to enjoy entertaining and cooking in her new space. I had a great time designing such a unique space and feel proud that she loves it just as much as I loved working with her.