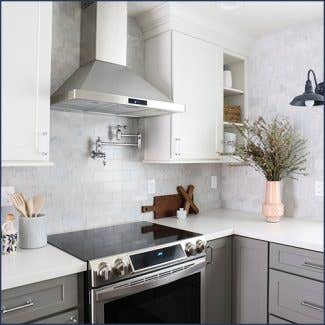 Major kitchen appliance manufacturers recently launched their shiny new product lines. But this year, it isn't stainless steel that's doing the shining. As discussed in The Wall Street Journal's article "After Stainless, Now What?," each manufacturer seems to be betting on a different finish to be the successor to stainless steel.
What's funny is that the industry has cried wolf many times before, claiming that 'oiled bronze,' 'antique copper' and a gray hue called 'meteorite' as well as aluminum and other look-alikes will replace stainless in popularity. But as you know, their words rang hollow.
So this time, is it any different? Is the reign of stainless steel coming to an end?
If one thing is for certain, it's that nothing is for certain.
Whirlpool Wants White
Whirlpool's most recent claim is that "white is the new stainless." The Ice Collection is Whirlpool's latest line, and it is putting a new glossy white finish front and center. Because stainless has that sleek, clean look, Whirlpool's aim with the new collection is to transform what consumers understand white can be and make it as beautiful as stainless. While white is the priority, the Ice Collection also features a shiny black finish and stainless.
Bringing Black Back
Wolf, on the other hand, doesn't have faith in white. Wolf is pushing black appliances covered in a highly reflective glass that lends a high-tech feel. Electrolux too thinks black is a better choice than white. Outside of the U.S., Electrolux is banking on a black steel finish that upholds a high-end restaurant look.
Go Gray
Between Whirlpool's white, Wolf's black, and the topic of our conversation, General Electric's new Slate finish falls somewhere in the middle. Not nearly as shiny and bright as stainless, the metallic Slate has a gray tint to it that GE stresses is "designed to blend with other stainless steel, black or white appliances" or be used by itself. For homeowners who aren't looking to upgrade all their appliances at once, the gray Slate is a good first step away from stainless while still maintaining a cohesive look in the kitchen.
What are we seeing?
At CliqStudios.com, our clients are still all for stainless. What our customers are choosing matches with what LG is thinking: "We don't see the trend of stainless steel appliances diminishing." We are only seeing white appliances with white kitchen cabinets. Our customers also aren't moving towards black in droves either. If black is used, it's with our medium wood stain, dark wood stain and Painted Black finishes.
For homeowners, stainless steel is still a safe bet. It's great for resale and looks good with any wood or painted finish you choose for your kitchen cabinets. There's no other appliance finish like it.
At CliqStudios.com, most of our customers are still choosing stainless steel