Annette Slatic had a very clear vision of how she wanted her house to look. However, she credits her architect, Architects Magnus, with making it come to life. The home provides a contemporary feel that blends perfectly with it's older neighborhood.
One of Annette's goals was to get the greatest possible value for her dollar. When she contacted CliqStudios for a quote, her kitchen designer, Carl was on the job. With only a few minor changes in the architect's cabinet layout, Carl was able to use our semi-custom cabinets to complete the kitchen design. He worked directly with the contractor, Integrity Restoration, to finalize the order. For example, finishing pieces used to build the wine cooler cabinet and tub surround.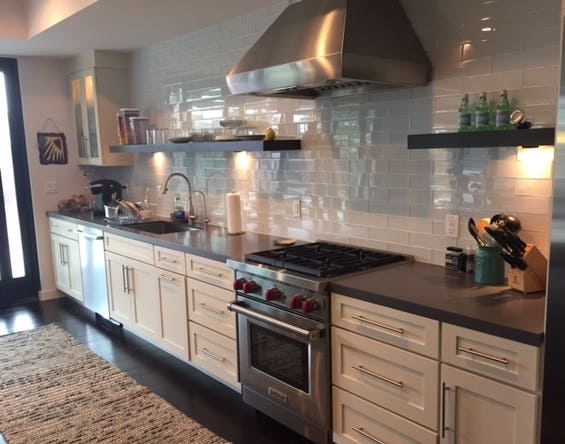 Base Drawers
Deep drawer bases on the kitchen's perimeter and island and cabinets in the butler's pantry/entry were a must. They provide great storage for dinnerware, pots and pans and dry food. This allowed Annette more space for open shelves for a clean, dressy look in contrast to wall cabinets.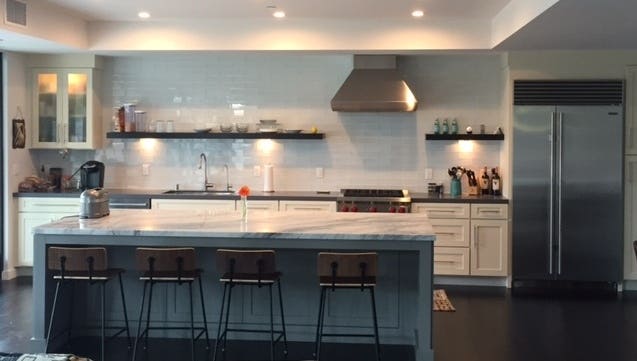 Grand Island
The deep furniture-style island, built from drawer-base cabinets, provides space for storage, food preparation, as well as serving and dining space. This view from the living area shows off the glossy tile wall. Additionally, the island acts as a showpiece interrupted only by open shelves and a single glass-door cabinet.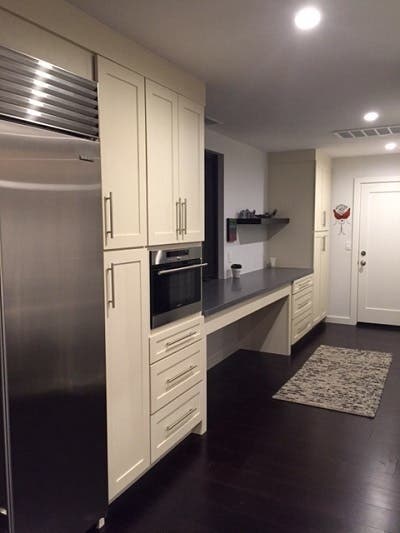 Blending Contemporary
The architect pleased Annette by providing the contemporary space she wanted. The architect did so while honoring the Craftsman tradition of the original structure. In addition to blending the design into an older neighborhood. Carl suggested a slight change to the architect's plan for the butlers pantry/entry. To balance the space providing more efficient storage, he increased the width of the stacked cabinets next to the refrigerator.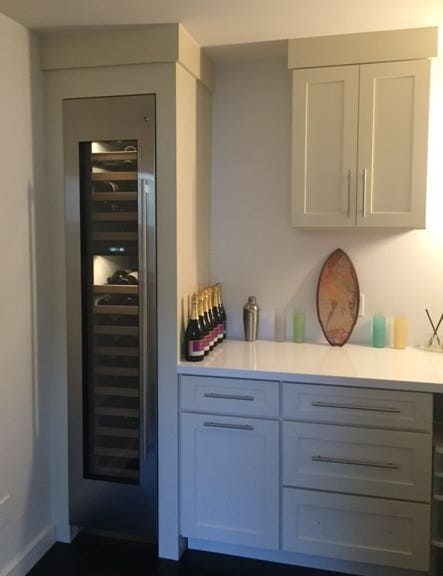 CliqStudios Quality
The installer, an accomplished cabinetmaker, commented on the high quality of CliqStudios cabinets. He used matching finished fillers and panels to create the custom wine cooler surround. The installer also included the contemporary crown molding set in the architect's plan.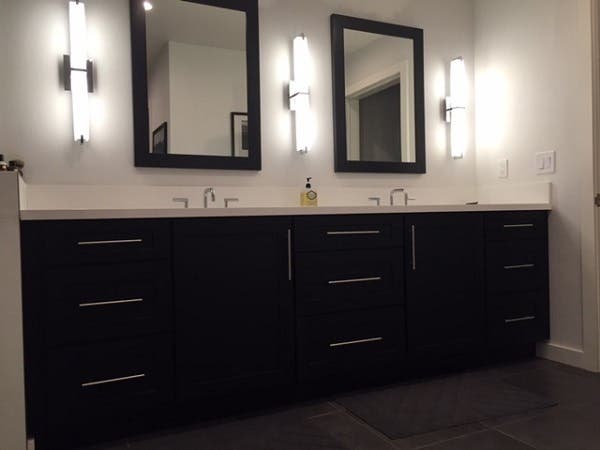 The contemporary craftsman look continued through the bath, where the double vanity and tub surround were created from black Shaker cabinets (CliqStudios Shaker Painted Black) and matching trim.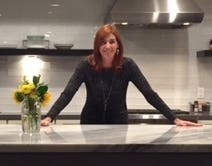 Annette commented, "My architect, Hector Magnus, made my vision come to life. His direction and guidance kept everything on track. My building contractor, Integrity Restoration, has the most honest, reliable people – they truly care about you and your home." She continued to say, "The cabinet installer was very pleased with the quality of the cabinets; I also enjoyed shopping for tile at International Bath and Tile, where Lauren and Jerry provide excellent design direction."
Jim Taylor, project manager for Integrity Restoration, speaks positively of working with CliqStudios, saying, "the designer, Carl, was helpful, the quality was good, and materials arrived as scheduled."