Home improvement projects can get pretty pricey, and not everyone can pay for them in one lump sum. So, finding the best options for financing your kitchen remodel project is worth the research. A complete remodel can cost anywhere from $5,000 for a small kitchen to as much as $60,000 for a large renovation
According to HomeAdvisor, the industry recommends you should spend between 5% – 15% of your home's value. So, for a home valued at $250,000, the median spend would be $25,000, which is roughly the current national average that homeowners pay for a kitchen remodel. Kitchen cabinets and hardware make up about 29% of the average kitchen remodel.
HomeAdvisor also reports that professional kitchen designers charge an average of $100 to $200 per hour, while the National Kitchen and Bath Association (NKBA) suggests four percent of your budget will go to design fees. This includes 3D renderings, material and color selection, start-to-finish support and management. CliqStudios offers these design services entirely free of charge.
Now that you're aware of how much you might have to spend, the next step is to choose the best options for financing your kitchen remodel that make sense for you. Keep in mind that the loan application process can be very quick or take many weeks depending on the type of loan you decide to use. Take a look at some of the financing options available for your kitchen remodel project, as well as the pros and cons for each option.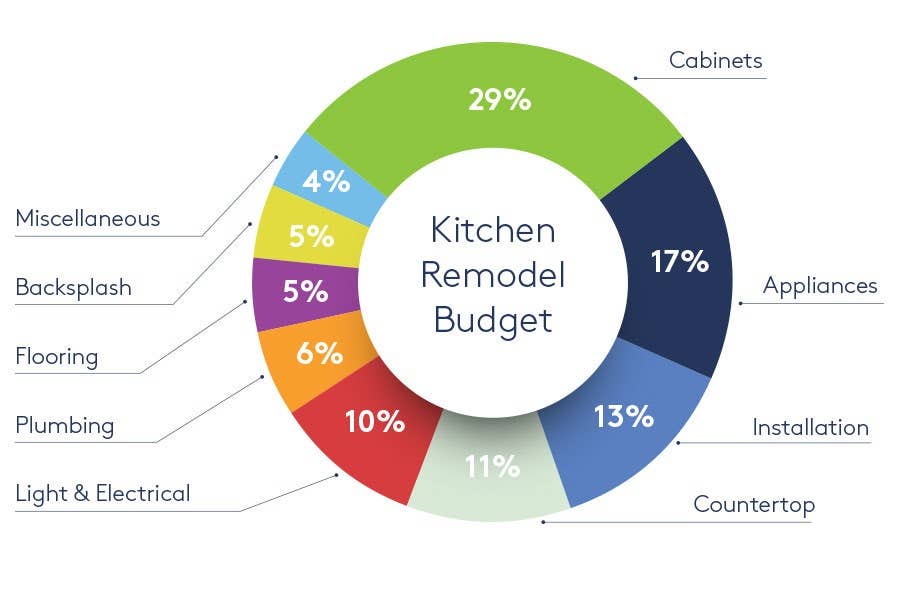 SECURED LOANS
Cash-Out Refinance
Banks, credit unions, finance companies, and mortgage brokers offer this option. Ideally, your home should be worth more than you owe on your mortgage. You could possibly refinance and borrow enough to pay off the first mortgage and have some remaining cash for your remodeling project.
For example, as financial counselor Roslyn Lash noted in an article for Nerdwallet, "If you received a 30-year, $200,000 mortgage at 6% five years ago, your monthly payment is $1,200, excluding taxes and insurance, and your current balance is $186,109. If your home repairs are estimated at $10,000, a cash-out refinance may be the best option. You would take out $10,000 in the refinance, giving you a new mortgage of $196,109 at an interest rate of 3.5% for a 25-year loan. That would result in a payment of $982. You'd pay off your home as originally scheduled and save $218 a month."
PRO: You could lower your mortgage payment while still getting cash for your remodel project.
CON: Lash warns that fees added into the loan amount could make the total cost of refinancing outweigh the benefits. She recommends getting a loan estimate from at least two potential lenders and comparing their fees.
Second Mortgage
This type of loan is taken against a mortgaged property. A second loan, or mortgage, against your house is split into two options.
Home-equity Loan – This is basically a loan based on the value of your property. Payed out in one lump sum, you repay in monthly installments at a fixed rate for a number of years.
Home-equity Line of Credit – Similar to credit cards, lenders give you a ceiling to which you can borrow, and charge interest only on the amount you actually use. You can draw funds when you need them over a period of months or years.
PROS: Both offer tax benefits of conventional mortgages without the closing costs. A home-equity loan's interest is usually fixed, and monthly payments are easy to budget. If you need extra money intermittently, a variable-rate home equity line of credit (HELOC) might be your best choice.
CONS: Since a second mortgage is secured by your home, you'll lose it to foreclosure if you don't pay the loan back. Your credit score will also be affected by late or missed payments. Rates are often slightly higher than conventional mortgages.
UNSECURED LOANS
Personal Loans
Banks and credit unions offer this type of loan, and it's the perfect choice for homeowners who haven't built up much equity yet but need to remodel soon. No home equity is required, so there's no chance you'll lose your home to foreclosure.
PROS: Your mortgage will not be affected. Interest rates are typically lower than credit cards.
CONS: The rates aren't as low as secured loans. Terms are fixed, and fees and penalties usually apply. This could adversely affect your credit score.
Low or No-Interest Credit Cards
If you have good credit, these cards are easy to get and the limits can be just the right amount for a small kitchen remodel.
PRO: Qualifying is usually pretty easy. Rates can be zero or very low for the first 12-18 months.
CON: You have a limited time to pay off the card before the low introductory rate goes up, often to an alarmingly high APR.
Finance with Bread® directly through CliqStudios
Unlike credit cards, when financing your CliqStudios kitchen cabinets with Bread®, you'll pay a straightforward installment loan. You know each month's payment, and the total cost, before you buy.
Work with your CliqStudios designer to finalize and approve your new kitchen design. When you're ready to complete your purchase, click on the "Pay Over Time" button on the payment screen. If you pre-qualify, you'll see a full payment schedule and monthly cost of your CliqStudios kitchen. Get your rate and payment estimator in a snap.
Visit these websites for additional financing and remodeling cost information
Home Advisor: How Much Does It Cost to Remodel A Kitchen?