Jayelynn Carlson, a CliqStudios Designer, works together regularly with a contractor in Chicago designing kitchens and bathrooms. But, how did they find each other? Through listings on the Internet.
Nick Karabetsos, Handyman ProServices of Chicago, Illinois and Milwaukee, Wisconsin found CliqStudios kitchen designers. Moreover, they helped him extend his business services by offering complete kitchen remodels.
Now Karabetsos lists his services on Angie's List and refers kitchen clients to CliqStudios for their professional kitchen design. Once the design is complete, Karabetsos gets to work finalizing the design and installing the new kitchen parts.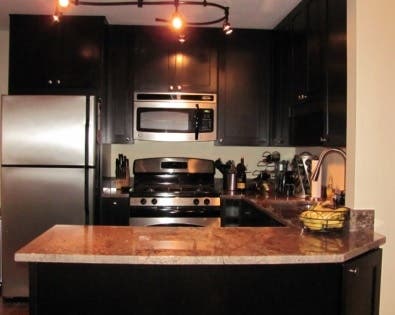 Over the past year, Carlson and Karabetsos have worked together several times creating new kitchen spaces across the Chicago/Milwaukee area. Karabetsos features kitchen specials on Angie's List. Pictured here is a kitchen he and Carlson worked on together with homeowner's the Sullivans.
Wanting a contemporary look, the Sullivan's specified the Shaker door style in birch with a sable finish. The kitchen was a tight space and Carlson remedied that issue by modifying the depth of the lower cabinets on the peninsula to create the extra counter space. Finally, the kitchen came together with the help of Jayelynn, the contractor and homeowner.
To contact Jayelynn Carlson or any CliqStudios Kitchen Designer, contact 800-576-7930 or head to the CliqStudios free kitchen design webpage.