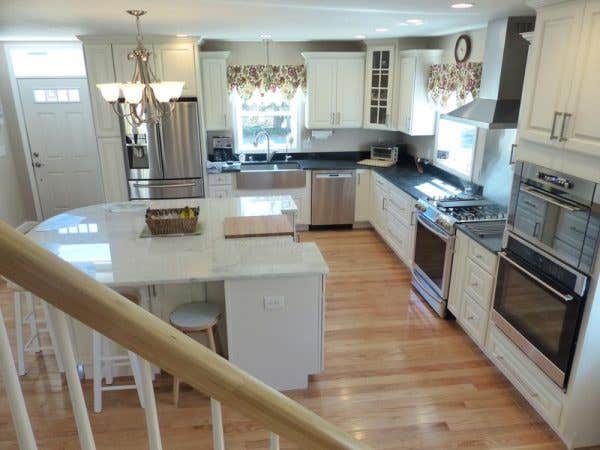 "My jaw drops every time I enter my kitchen." So says Bob Roth about his gleaming new kitchen in Dennis, Massachusetts.
New Additions
Bob's daughter had invited him and his wife RuthAnn to build an addition onto her white clapboard house in the center of Cape Cod, not far from Hyannis. The addition grew into a full Cape Cod house of its own. With the house complete and self-contained, Bob and RuthAnn moved in full time. "Think of it as "an in-law addition," he says.
Though not a contractor, after owning five homes over the years, including a two-family house he rented out, Bob had acquired the basics of plumbing, electrical and carpentry. So he had a clear overall vision for his dream kitchen when enlisting CliqStudios to supply the cabinets.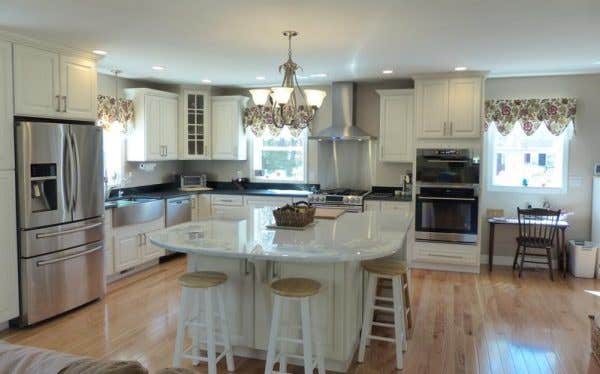 Connecting With a CliqStudios Designer
"We wanted traditional white paneled cabinets, black soapstone counters and a large island with a cutout on one side, topped with Carrera Marble. I knew what I wanted," he says, "but CliqStudios designer Sammi Lindemann made it all work. In fact, people tell me my kitchen should be in a magazine."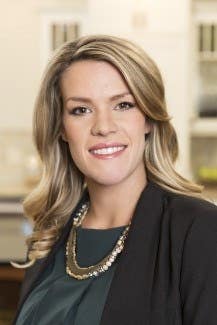 In a close and friendly collaboration, Sammi provided insightful touches throughout the kitchen.
She designed the island to seat seven, since the Roths have no other dining table. "While the island was their idea," Sammi reports, "I wanted to give it more detail. I recessed the center cabinet in the front and flushed out the toe kick space to give it more of a furniture look."
"We use the top of the island for pastry and pasta making, but mostly we just love the look of it," says Bob of the island.
Sammi also created a series of cabinets with staggered heights and Decorative white doors. Some reach the ceiling and some don't, but traditional crown moldings tops them all. A glass cabinet in the corner serves as a focal point.
Quality Cabinets & Service
Bob considers the CliqStudios cabinets excellent in quality and highly affordable. However, the service impresses him above all.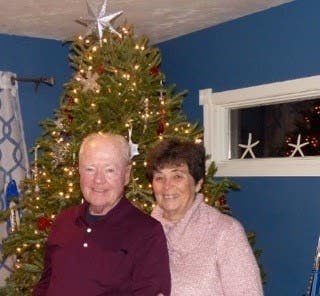 "The cabinets were delivered in the dead of a Cape Cod winter," he relates. His narrow street is plowed only the width of a single car, so the truck couldn't get in. The cabinets had to be carried through the snow by hand, and some were damaged in the process.
"I just sent a picture of the damage to CliqStudios and new cabinets were shipped out to me immediately, no questions asked," he says. "You can't get better than that."
The Roths sold their charming house on the mainland to become permanent citizens of Cape Cod. The stirring sea breezes and a dazzling new kitchen make it unlikely they will regret their choice.
Here's a link to the 5-star testimonial the Roths gave Sammi.