Load. Slam. Splatter. Clean. Repeat. As many as 25,000 times. In sunlight, heat and humidity. That's the life of a cabinet.
Your kitchen cabinets are hard-working members of your household. Therefore, we build them to take the stress of family life and still work and look like new. However, we don't expect you to take our word for it.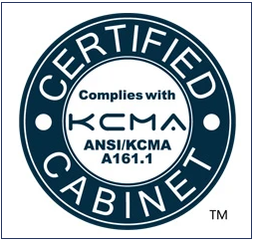 Every CliqStudios cabinet carries a little sticker with a big promise: certification by the Kitchen Cabinet Manufacturers Association (KCMA). Moreover, assurance the cabinets will perform well after years of typical household use.
KCMA is a tough critic, and their certification process is tougher. For example, certified cabinets have to perform under rigorous tests performed by an independent third-party laboratory approved by the American National Standards Institute (ANSI).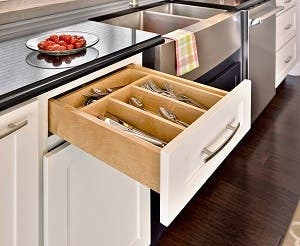 Step 1: Selecting Cabinets for Testing
Firstly, a selection of cabinets are sent for testing. At any time, a KCMA representative may also make an unannounced visit to our factory, selecting more cabinets for testing. Just a few of the tests the cabinets faces at the lab:
Step 2: Testing Cabinets for Strength
Shelves and cabinet bottoms are loaded at 15 pounds per square foot for 7 days
Mounted wall cabinets are loaded to 600 pounds.
250 pounds is applied against the inside of the cabinet front.
A 3-pound steel ball is dropped onto shelves and drawer bottoms.
A 10-pound sandbag strikes the center of a closed door.
Then inspecting the cabinet for any sign of failure.
Step 3: Testing Drawers and Glides
Drawers are loaded at 15 pounds per square foot and run through 25,000 open-close cycles!
A 3-pound weight is dropped in the drawer 10 times.
Then inspecting the drawer and glides for any wear or damage.
Step 4: Testing Doors and Hinges
65 pounds is applied to the door as it opens and closes 10 times, then the open door supports the weight for 10 minutes.
The door is opened and closed 25,000 times.
Then inspecting the door and hinges for any wear or damage.
Step 5: Testing the Finish
A door spends 24 hours at 120° and 70% humidity.
A door is put through 5 cycles of 1 hour at 120°and 70% humidity follows by 1 hour at -5°.
Vinegar, lemon, orange and grape juice, catsup, coffee, oil and 100-proof alcohol are applied for 24 hours, and mustard for 1 hour.
A door edge is exposed to detergent for 24 hours.
Then inspecting the door for damage or wear after each test.
The cabinets earn certification only when a line of cabinets has passed every KCMA-ordered test. KCMA certification assures you the cabinets will provide years of function, as well as, beauty. For more information on how our cabinets are certified for quality in construction and indoor air quality, see cabinetry certifications information.
Learn about our quality cabinet construction specifications.