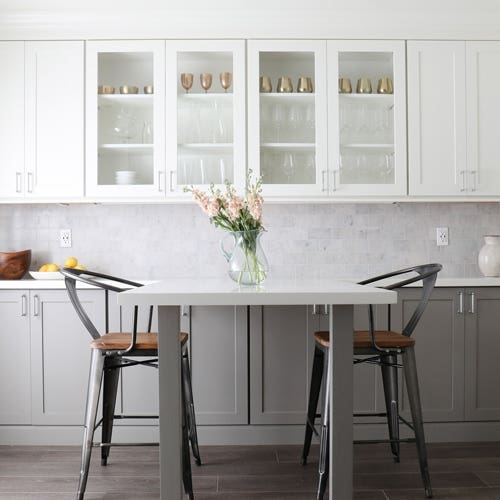 After a particularly long and brutal winter, the sun is finally rising in the sky. Celebrate spring! Treat your kitchen to some fresh flowers for the island or dining table.
Will it take more than flowers to make your kitchen happy? Drastic measures? Then it may be time to get started on a remodel. Whether you are replacing cabinets or tearing down walls, it's probably best to avoid winter weather and August heat.
Why Spring?
You will need to receive and store kitchen cabinets and other materials during construction. If you are used to parking in a garage, be prepared to give it up. Contractors, by necessity, track in and create dust and dirt. Remodel when an installer can set up tools outside and make trips in-and-out without walking through snow or mud. On a rainy day, you can lay a series of rubber-backed mats to reduce the tracked mud.
Your grill, patio or deck, and outside water supply will be welcome extensions of your temporary kitchen
Are you going to be moving walls or windows? Your house will be open to the elements during the process. It's far better to live with plastic-covered windows in warm weather than cold.
The best time to hire contractors and order materials is before the height of the busy season. You may get better prices, and are more likely to see delivery and completion dates fulfilled. Buying appliances? Moneycrashers says May, when manufacturers release new models, is the best time to buy a refrigerator.
Plan Ahead
Remodeling complicates life, so plan the process when your calendar is least busy. In late spring and early summer, school schedules and special events (graduations, concerts, athletic tournaments, etc.) may be winding down. Kids may be off to camp for a few days. You may even plan a family vacation during construction, leaving your contractor in charge while you relax on a beach.
Whether June or January, the best time for your remodel is after you have done research and careful planning. Consider consulting with a professional kitchen designer right away. They will ensure you are covering all the bases before ordering materials or hiring a contractor. The CliqStudios Design Team offers that as a free, no-obligation service. We want you to get the best kitchen for your budget.