2 Min. Read
Some customers may not want or need design services. For those of you that already have a floor plan in place and just need to order, CliqStudios new quoting tool is just for you. As a self-serve option, you can browse cabinet styles, finishes, sizes, and accessories all on your own, and checkout without talking to anyone. Let's dive into how CliqStudios new quoting tool works.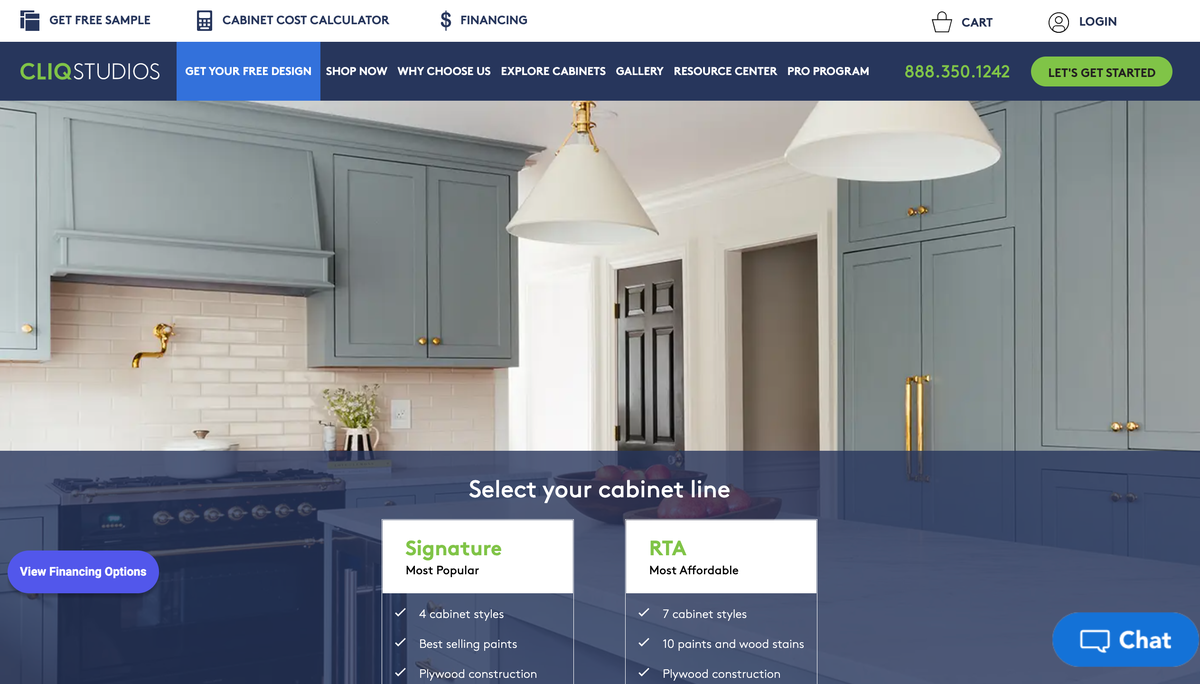 Step 1: Select Your Cabinet Line
Start by clicking 'Shop Now' and 'Cabinets' in the main navigation. Then, choose from CliqStudios' Signature line semi-custom cabinetry or RTA (ready to assemble) cabinetry. RTA cabinets give you the option to either assemble the boxes yourself or have the factory build them for you.
Step 2: Choose a Door Style/ Finish
Next, select the door style and finish you prefer. Finishes are displayed in small squares below each door. If you need to change the door or finish after adding cabinets to your cart, click 'Change' under your door style displayed in the top left corner.
Step 3: Add Cabinets to Cart
Use the icons above to select what type of cabinet you need i.e., wall, furniture, base, tall, vanities, and accessories. Once each category populates, find the sizes and accessories you need within the drop-down menus and add them to your cart.
Step 4: Compare Cabinet Style & Finishes
After double-checking the items in your cart, you will have an option to compare different styles and colors side-by-side. To use this feature, click 'Select Cabinet Style' in the top right dropdown menu and choose an additional style and color you want to see pricing for. Click 'Apply Now' if you want to change your cabinet door style and finish.
Step 5: Proceed to Checkout
Either click 'Add More Cabinets' or 'Proceed to Checkout'. When you proceed, the next screen will ask you to sign up or sign in. This gives you visibility into shipping status following your payment as well as order history.
Step 6: Purchase Cabinets
Checkout will require typical information needed to order any online product. This will include your name, billing information, shipping information, and acknowledgments. After you place your order, you will receive access to tracking and shipping information. This is a great convenience, so you know when to have your space prepared and ready to receive new cabinets!
Interested in shopping cabinets? Use our new quoting tool now!