Why Blum® Hardware is Included in CliqStudios Signature Cabinets
Hinges and drawer glides in a high-quality kitchen cabinet will provide smooth, easy motion as well as soft closes over a lifetime of use. Blum, Inc., founded in Austria in 1952, is the global leader in the cabinet hardware industry. We know Blum hardware will live up to our CliqStudios Lifetime Warranty and construction standards. That is why, at CliqStudios, Blum BLUMOTION soft-close hinges and Blum TANDEM plus BLUMOTION soft-close drawer glides are included in all our Signature lines cabinets.
About Blum®, Inc.
Blum, Inc. is a leading manufacturer of concealed hinges, as well as, drawer runner systems. Blum supplies North American cabinet manufacturers from its manufacturing and distribution complex in Stanley, North Carolina. Wholly owned by the Blum family, the company was formed in 1952 by Julius Blum and headquartered in Hoechst, Austria. All Blum hardware is also guaranteed for the life of the cabinet.
About Blum® Hinges and Glides
Blum® COMPACT BLUMOTION Soft-Close Hinges
Used on CliqStudios Signature line full-overlay door styles, COMPACT BLUMOTION is a compact, sturdy, six-way adjustable hinge. Composed of 32 individual parts, imported from Austria, the hinges are assembled in the United States. Concealed when the cabinet is closed, with an elegant, sleek profile when the cabinet is open, it is tested to withstand 200,000 open-close cycles without damage.
The no-slam feature, built into the hinge cup, guarantees a gentle close no matter the weight or closing speed. On a light or small door, you can simply deactivate soft-close on one or both hinges for the movement you want.
Nickel-plated steel construction
107° opening angle
6-way adjustable
No-slam, soft-close feature built into hinge cup
Lifetime manufacturer guarantee
Instructions on adjusting hardware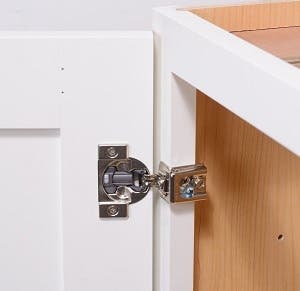 Blum® BLUMOTION Hinges
Used on Signature line concealed-hinge inset door styles, the BLUMOTION CLIPTOP press-in hinge provides a soft and effortless close. Manufactured in Australia and assembled in the U.S., 58 individual components make up a single hinge. Then, Blum tests the hinge to withstand 200,000 open-close cycles.
The BLUMOTION feature, built into the hinge cup, can easily be turned off to provide a faster but still silent close. Luckily, a Phillips screwdriver easily fixes any door misalignment.
Nickel-plated steel construction
110° opening angle
6-way adjustable
No-slam, soft-close feature built into hinge cup
Not available with Pull-out Trash can and Pull-out Spice Rack cabinets
Lifetime manufacturer guarantee
Instructions on adjusting hardware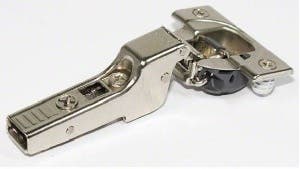 Blum® TANDEM plus BLUMOTION Soft-Close, Full-Access, Concealed Undermount Drawer Slides (Glides)
Yes, it takes that many words to describe the drawer glides on our cabinets. A complex mechanism, made up of 170 parts, all manufactured in the U.S. and assembled in Blum's North Carolina factory. Furthermore, Blum tests the glides to function smoothly after 100,000 open-close cycles.
Hidden from sight but always on the job, a pair of TANDEM plus BLUMOTION glides support 90 pounds of weight. They also offer full access to drawer contents, four-dimensional adjustment, excellent stability and minimal sag. Fully loaded and under any closing force, the glides maintain a smooth running action in addition to a no-slam soft close.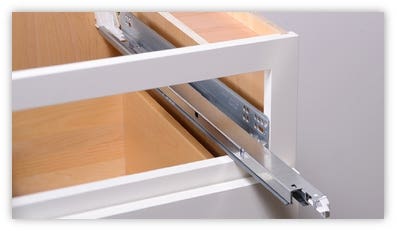 Zinc-coated steel construction
Fully concealed undermount installation
Full access runners
Four-way adjustable
Integrated BLUMOTION soft close
90-pound capacity
Not available for some Concealed Hinge (CH) Inset cabinets. Please check with designer.
Exceeds ANSI/BHMA A156.9 2010 grade 1 specifications
Instructions on adjusting drawer glides
In an Open Kitchen, Silence is Golden
Will your new kitchen be open to the living and dining areas? If so, you will hear doors and drawers opening and closing thousands of times over the years. Have you ever heard the slam of a cabinet door, followed by the rattle of china bouncing on a shelf? Woken to the sound of a vanity drawer shutting in the master bath? Or had your fingers trapped between a drawer and the countertop?
With CliqStudios Signature cabinets, you will never have those experiences. Before you buy cabinets, learn about soft-close and other construction features. To help, we prepared a Cabinet Buyers Guide that explains how to evaluate quality across brands.
*Exceptions: Blum hardware is not available on our revealed-hinge-barrel inset Austin styles. Blum glides are also, not available for the wall drawer cabinet or spice drawer cabinet. Your kitchen designer will be happy to answer any questions.