Favorites from the Pros
Designer Bill H.
A small kitchen is a big opportunity. We at CliqStudios talked to our team of designers to brainstorm big ways to make the most of storage in a small kitchen.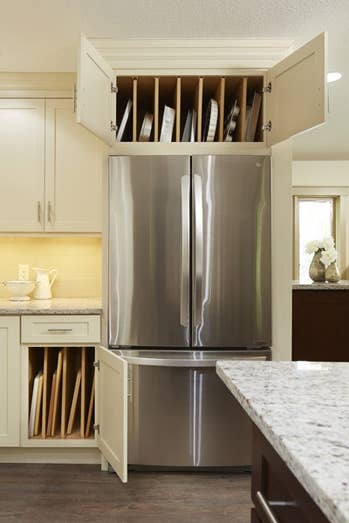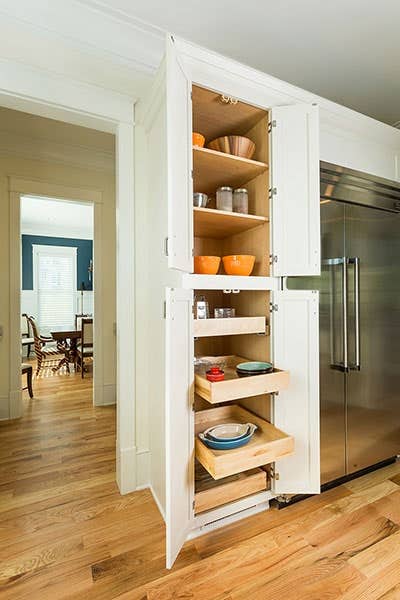 First, we began by asking our designers about their favorite storage solutions. The result was a plethora of wisdom and creativity. "Pantry with roll trays and tray dividers in the upper oven and fridge cabinets," says designer Bill H. These items allow for great storage for grocery items and appliances that can over clutter cabinets. The organization process is simple.
Designer Dyani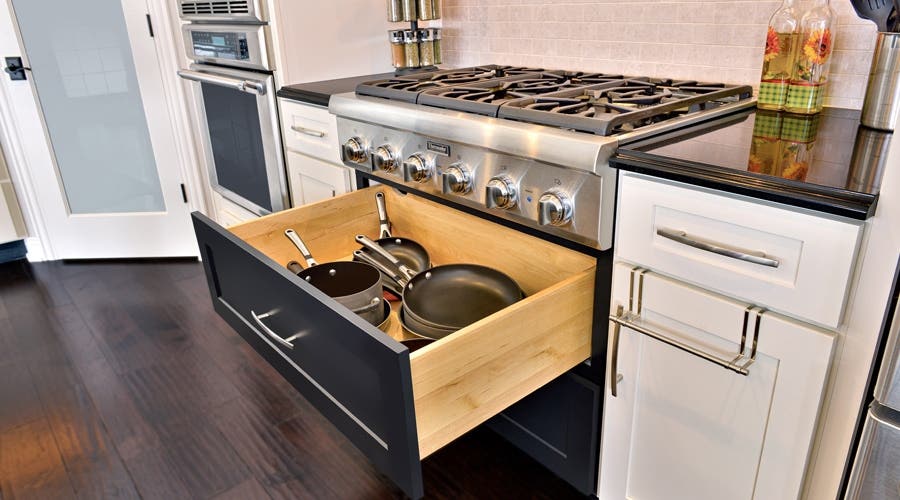 However, designer Dyani discussed the importance of not squeezing every inch of the design. Items like roll our trays, drawer bases, and pull out spice racks are great to "Utilize the space fully from front to back of the cabinets…They help prevent that 'dead space' at the back of the cabinets. They can also be used in a multi-functional way."
Designer Patty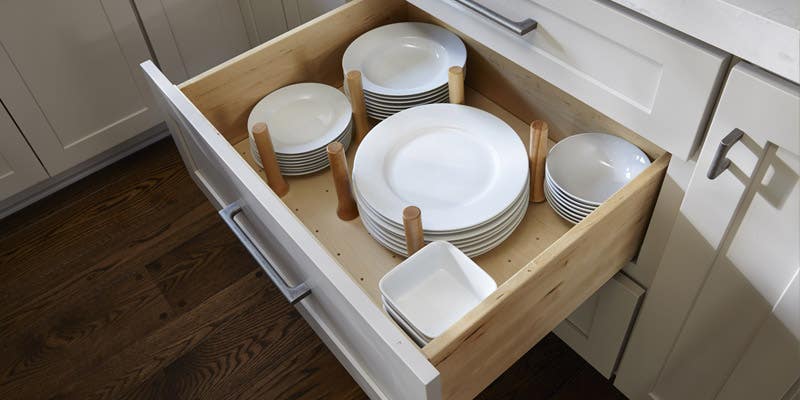 For Patty, it's all about pegs! She enjoys the peg drawer system for creating storage solutions. Additionally, with this system, homeowners can store plates and bowls in full-access drawers. Birch pegs hold dishes securely in place and are easily removed to customize stacking options. This system makes it easy to keep plates, bowls, and other dishware organized and helps prevent items breaking. "So many clients are trying to minimize the wall cabinets there is no place for dishes. The peg system solves that and doesn't leave you having to dust your dishes on an open shelf."
Designer Jilda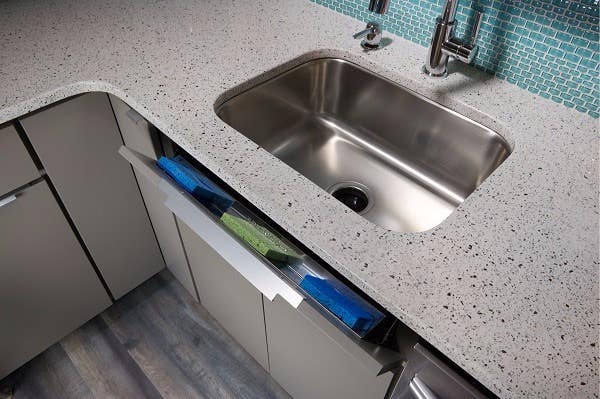 Designer Jilda spoke from experience with her remodel. As a result, she practices what she preaches by using a small sink in her kitchen to help create more counter space. "I live in a duplex with a 10 by 10 kitchen and I was determined to have a dishwasher and more counter space. That's why I decided to go with a smaller sink: I make lots of pasta and soup with no trouble. I encourage people to think about this option. Double bowls are overrated!"
Designer Jayelynn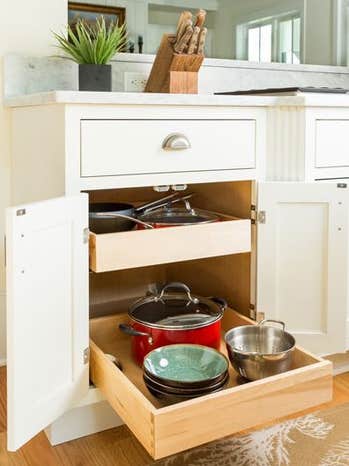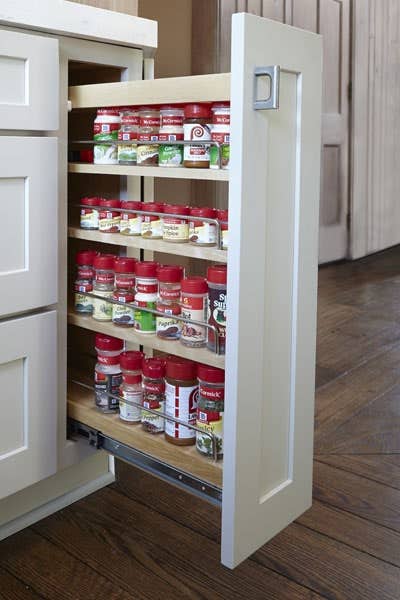 On the other hand, Jayelynn says "My favorite go-to storage cabinets are our pull-out storage units and our 2-drawer base cabinet. I like to put the BSP09/12 on one side of the range (and the other side I put a tray base for balance). I always try to include a 2-drawer cabinet with the MS dividers if space allows."
Designer Mark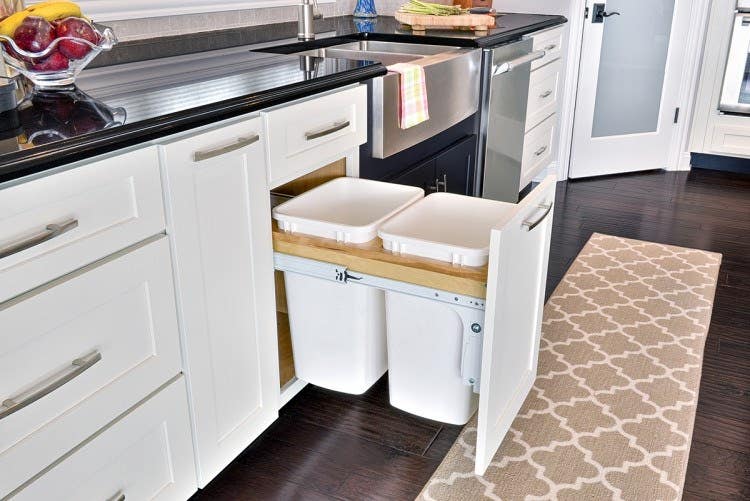 Finally, designer Mark understands that a kitchen features doesn't have to be the flashiest to be the most helpful. He says "My favorite, or perhaps better framed as 'least willing to eliminate' is the 18" pull out trash/recycling unit; not flashy like some others but a real unsung hero of lifestyle simplification." With this feature, homeowners don't have to worry about trash bins taking up floor space. The unit is installed next to the sink to make cleaning up a simple and easily concealable process.
Favorites from CliqStudios
Finally, our designers' told us the best product we offer at CliqStudios to address storage for a small kitchen. Our team succeeded in providing a variety of diversely strong answers.
For example, Bill says, "3" and 6" filler storage pull outs."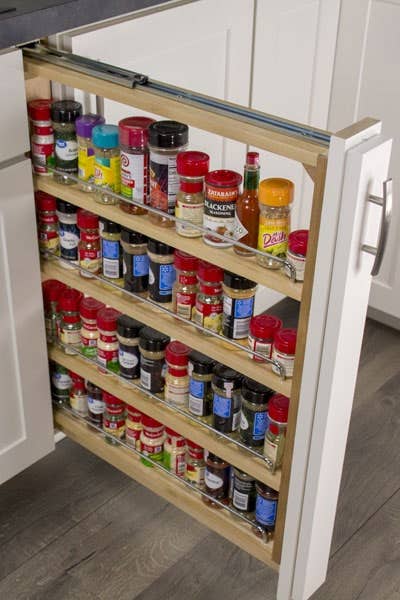 "The Lazy Susan makes use of the corners," says Patty.