The most important aspect of any kitchen remodel is the budget. This is where you create a detailed game plan along with the parameters of your project. What new features do you want in your kitchen, and what quality of materials will you use? Established finances will determine the success of your project along with your overall satisfaction once it's said and done. Take a look at what it typically costs to remodel a kitchen.
National Kitchen & Bath Association Statistics:
(Kitchen Remodel Budget by Percentage)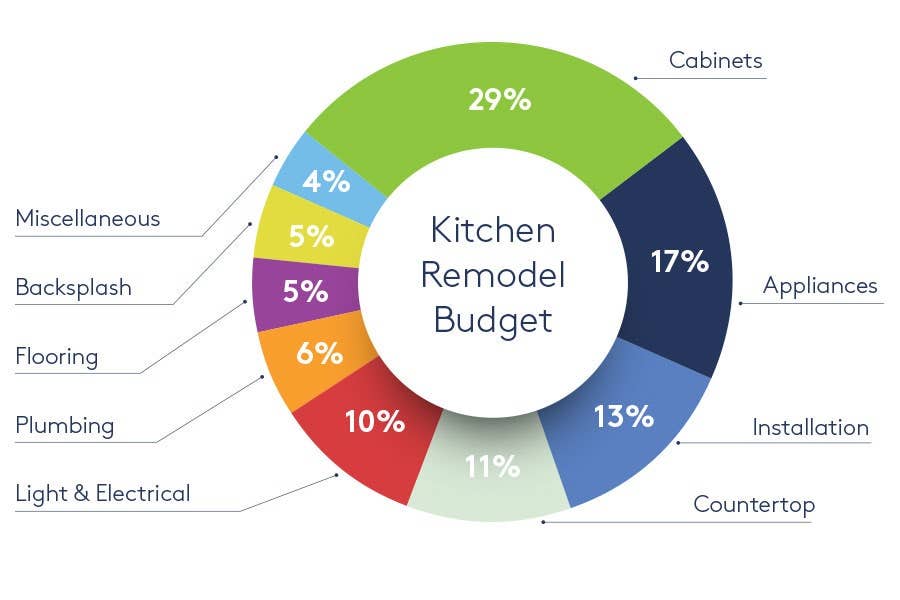 Average Kitchen Costs
The average cost of a kitchen in the U.S. is $25,000, but you will find the typical spending range is anywhere from $13,700- $50,000. These totals cover a wide variety of remodels, from basic refreshes that are merely facelifts to high-end updates that include a completely new layout with custom cabinets and materials.
Here's an in-depth breakdown of average kitchen remodel costs:
Basic
$5,000-$25,000
Mainly aesthetic updates . New cabinets, new appliances, new countertops. Walls, windows, doors, plumbing are typically not moved
Mid-range
$26,000-$64,000
New cabinets, upgraded countertops, lighting, flooring, and accessories. Walls, windows, doors, plumbing and electrical may be moved.
High-end
$65,000-$126,000
Custom cabinets, pro appliances, new countertops, lighting, flooring. Walls, windows, doors, plumbing and electrical expanded or relocated.
Cabinet Installation Costs
Just like the cost of kitchen cabinets, install pricing will depend on the size of your kitchen and the amount of materials being purchased. Another factor that will affect contractors' quotes is where you're based in the country. installation is typically around 17% of your project total, so you can get a rough idea of your total cost based on the overall remodel budget you've created.
Remodeling can be overwhelming for a first-timer, and even for the veteran weekend warrior. Just remember to start your project with a budget so you have a clear path to follow while still maintaining a reserve for any unforeseen expenses. If you do this, your new kitchen will be more likely to come in on budget with no surprises.
Get a quick quote with the Cabinet Cost Calculator