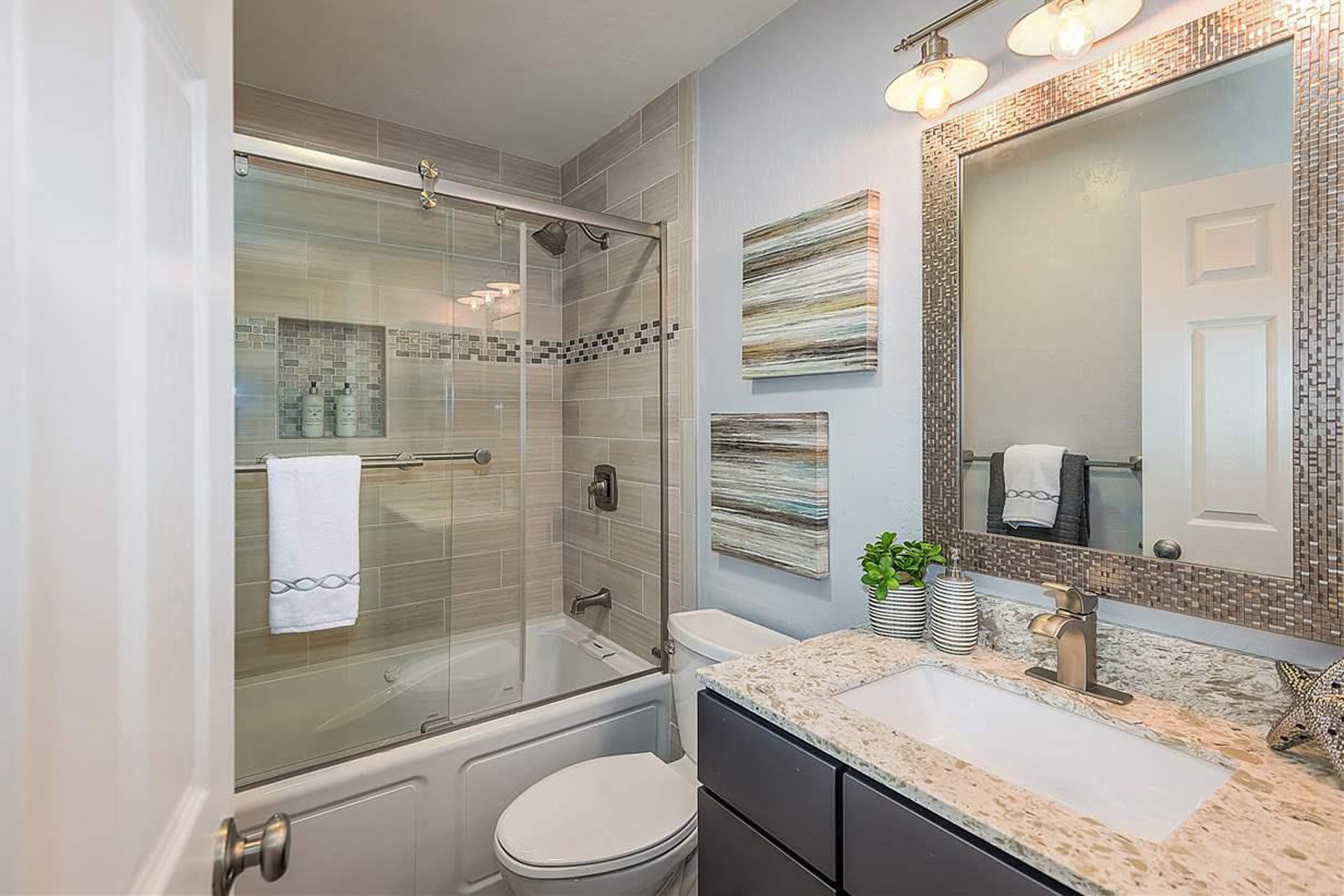 Design is all about taking the space you have and creating something remarkable. But what if your space is small and narrow? How can you make it look both elegant and trendy while still being functional? There are several small space solutions, specifically small bathroom furniture ideas, in our tool kit at CliqStudios that can do just that.
At CliqStudios, we manufacture high-end custom cabinetry as well as RTA (ready-to-assemble) cabinets for our clients. Our talented team of designers will work 1-on-1 with you to create a one-of-a-kind bathroom design to fit your needs. From master suites to small powder rooms, CliqStudios offers bathroom furniture ideas for any size bathroom. Our designers keep up with the latest trends and work with you to decide what is best for that space.
1. Custom Shelving Under the Sink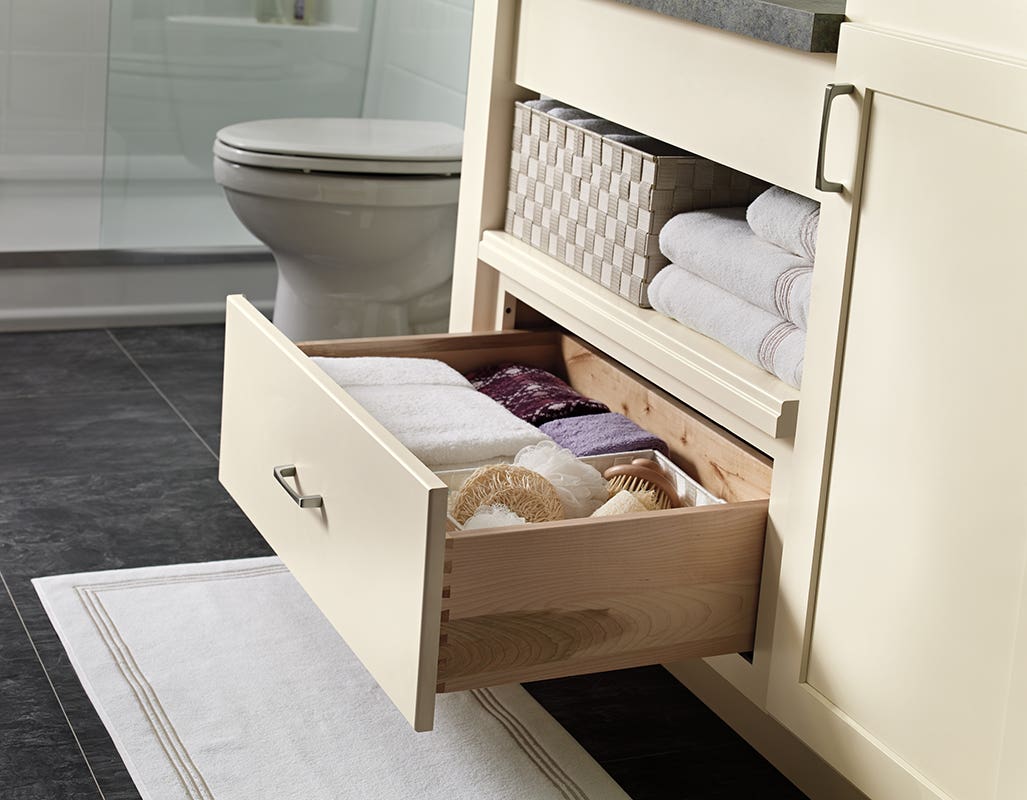 One elegant bathroom furniture idea for a particularly tiny bathroom is to design a set of custom shelves for the under-sink area. These shelves would be installed in place of the traditional bathroom vanity. Typically, a series of 1-3 shelves serve the space best. Custom wood shelving is on-trend and incredibly practical for storage too. From skincare products to makeup, body care, and other bathroom essentials, these shelves are great for storing them all in a visually appealing way. The overall design style will decide the style of shelving. For instance, if the client is really drawn to farmhouse designs, then a series of 3 wooden shelves with a weathered would be a perfect fit. On the other hand, if they prefer a more modern design for their small bathroom, then a set of 2 shelves in sleek white paint would be a better choice.
Products stored away on this shelving unit should be lined up neatly, placed on decorative trays, or stowed out of sight in storage bins that align with the rest of the space. If you prefer, drawers or dividers can be added to the custom shelving units. Since the bathroom is small, any form of clutter will be amplified, so keeping the room clean and organized is necessary. Custom shelving is one of the most effective small bathroom furniture ideas that is crafted to achieve this goal while supplying more storage space for you. Obviously, each client's wants and needs will vary and every CliqStudios' designer will be able to adjust the design based on what you discuss 1-on-1 including style, finish, the number of shelves, etc. Under-sink shelving is a chic and modern way of making the most out of minimal bathroom space.
Schedule a Complimentary Design Consultation Now!
2. Single Vanity Bathrooms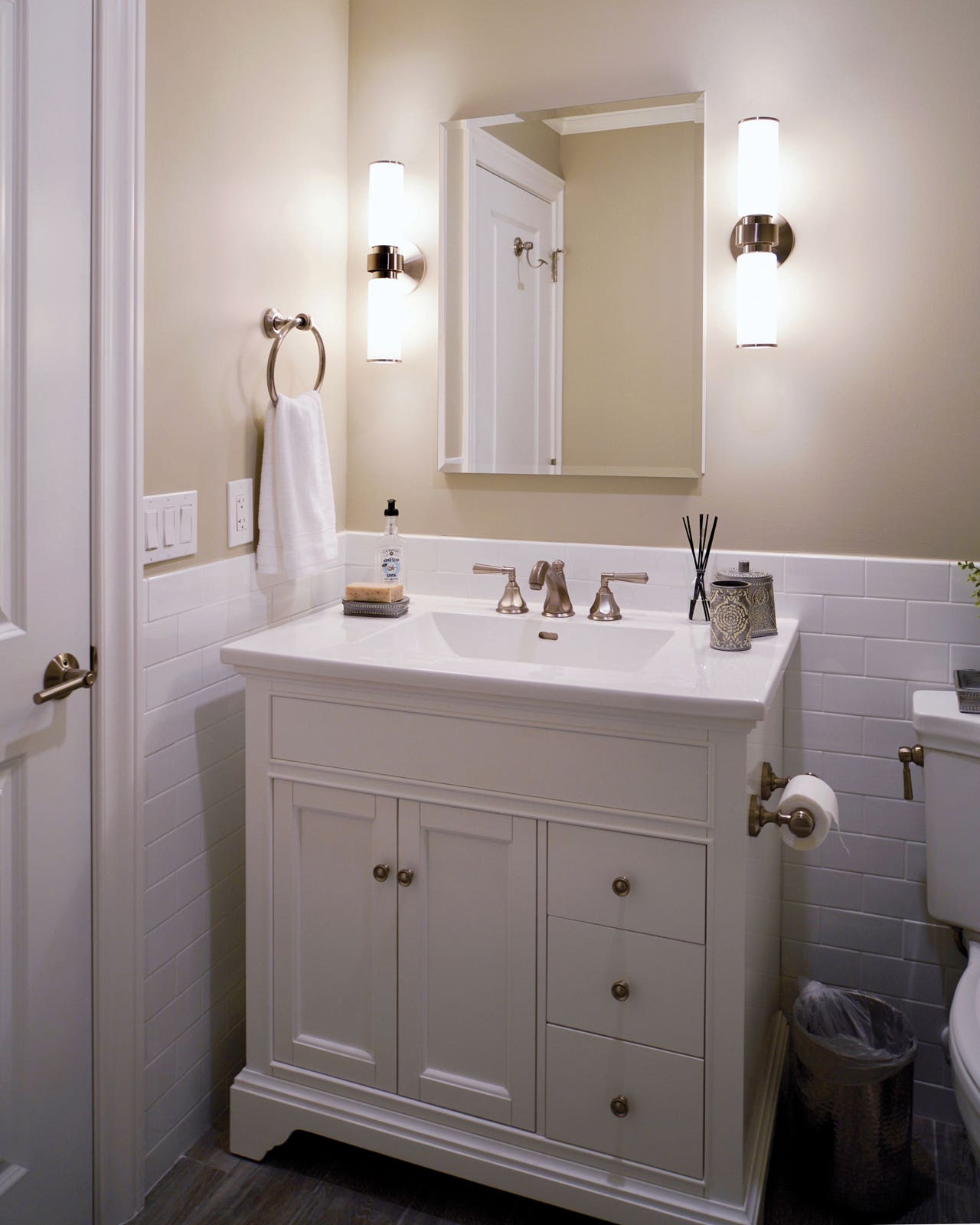 We all dream of spacious master bathrooms with double vanities, but with limited space, that's not always possible. Although it's not as large as a double vanity, a more practical bathroom furniture idea is a single vanity. This is especially effective if you prefer having daily essentials tucked away when the products aren't being used. There's more flexibility to be creative with this design, as opposed to the custom shelving with fewer options. From contemporary to rustic, farmhouse, traditional, modern, and transitional there are many interior design possibilities available depending on your preferences and the design represented in the rest of the space. It's typically best practice to stick with a single design style throughout the home because this creates a more cohesive design.
Of course, a single vanity will have less storage than a double vanity but can still be a highly effective solution for a small space. From open shelves to standard cabinet doors and drawers, there are more design possibilities than you might think. Each client's style will help guide the design of this vanity. For example, if your home follows a farmhouse style, then it's common sense to continue that style into the bathroom. When it comes to a farmhouse single vanity, drawers and a soft neutral color palette will work well with rustic cabinet pulls. The farmhouse style is all about combining straightforward design with rustic touches, so conversely, that should be incorporated into the vanity. On the opposite end of the spectrum, if your home is more contemporary, the vanity should have a very distinctive look. Modern colors tend to be white and darker neutrals such as black and gray. In relation to cabinet hardware finishes, metals like stainless steel and brass are popular which bring an elevated look to this small bathroom. When it comes to cabinet storage, it should feature open shelves and drawers that will adhere to that modern style.
Discover More Cabinet Options!
3. Colorful Cabinets & Style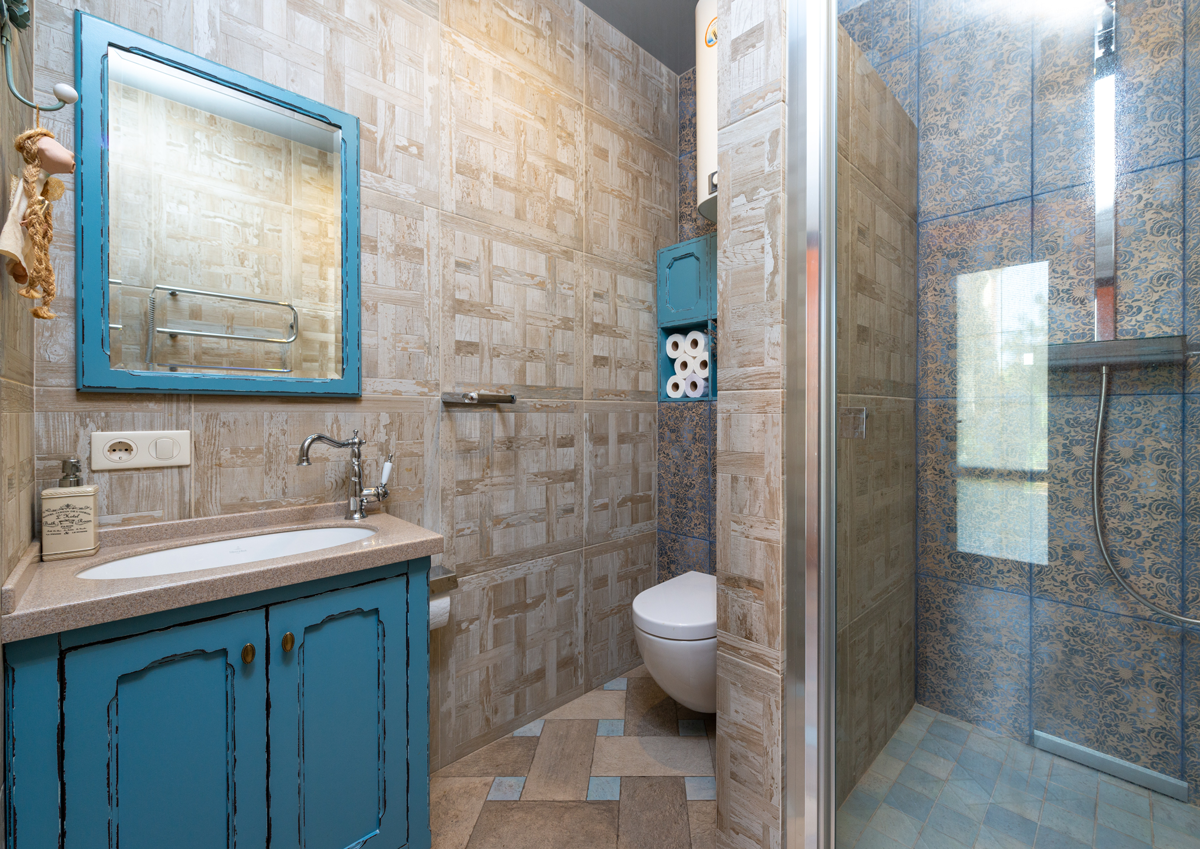 A terrific way to make a small space pop is to play with color. Color is often a discussion based around walls and potentially bathroom tile, but it doesn't have to be so limited. Colorful cabinets are very trendy and tie in well with bathroom furniture ideas. Simply adding colorful cabinets is an effortless way to make a small bathroom instantly more stylish. The color choice is obviously a particularly important piece of the puzzle since the vanity with be a major focal point in the bathroom design, especially with less square footage to work with. As with every other aspect of interior design, the colors chosen for bathroom cabinets must be what you want and should coincide with the style that has been chosen for the space. The color of the year according to color experts at Pantone is a light periwinkle blue shade with luxurious violet undertones called "Veri Peri." Of course, this color may be out of most homeowners' comfort zones, but it's good to keep popular colors in mind, especially if you want to keep up with the latest trends.
Colorful cabinets typically align best with bohemian, Moroccan, and beach interior design styles. These styles tend to incorporate splashes of color more often than modern, industrial, or traditional design styles that focus on neutral color palettes. If you're drawn to the bohemian style, use colors such as rich greens, yellows, blues, and reds. For beach style, calming shades of blue like ocean and seafoam green are right up your alley. Moroccan style fits best for people who enjoy shades of orange, blue, and pink. It's important to stick to one or two colors, especially in a smaller bathroom. If the design involves too many colors, it can be overwhelming and feel busy. Regarding small bathroom furniture ideas, one color works best, specifically choosing one color to paint the bathroom cabinets and sticking to neutrals for the flooring, shower tiles, cabinet hardware, etc.
Speak With a Designer About Color!
4. Floating Vanity Cabinet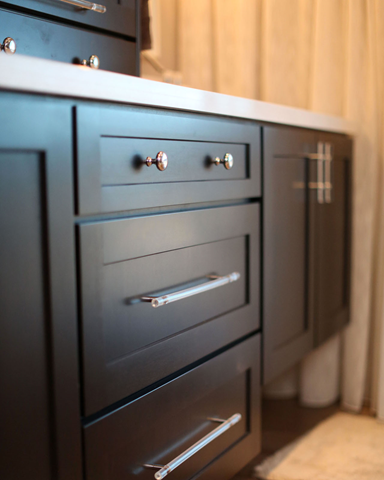 For more minimalist style, a floating vanity cabinet is an excellent bathroom furniture idea. This style of vanity instantly elevates the design of the entire space and gives it a modern flair. Depending on the color chosen for the cabinets, it can be a focal point that really pops or blends in more with the rest of the design. Floating vanities are still functional by offering storage space for daily essentials but give the appearance of a bigger space by leaving it more open. This type of vanity also makes bathroom cleaning much easier. It cuts the need to search for stray dust and dirt because underneath the bathroom vanity is open. If you're drawn to elaborate tile work, then this is the ideal bathroom vanity for you as it creates more display space. Additionally, this possibility accommodates a wide range of heights and can even act as a storage space for a child's step stool.
Floating vanities are usually modern in design, so a darker neutral color palette is typically best when choosing a cabinet color such as deep grays and blacks. White also skews quite modern, so you can't go wrong with choosing a shade of white. When it comes to choosing cabinet hardware for a floating vanity, simple is best suited to this design style, such as brushed brass, stainless steel, and silver knobs or pulls. Of course, you can personalize a bathroom with whatever style knobs you'd like, just make sure to focus on one key design element that truly pops.
5. Drawers, Drawers, Drawers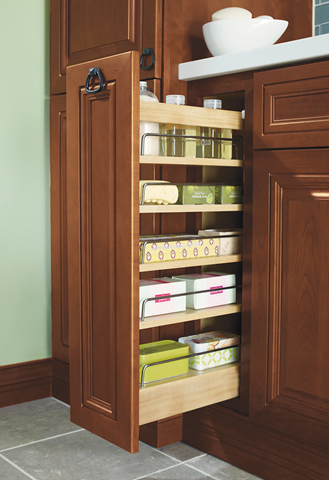 Ample storage is one of the most important design factors to consider in a small space, especially a small bathroom. Function and style need to blend seamlessly, and clutter should be avoided at all costs. Clutter will instantly make an already small space appear closed in, as well as decrease the functionality of the room. A simple small bathroom furniture idea is to incorporate a ton of drawers within the bathroom vanity, especially if it's a single vanity that serves multiple people. The number of drawers included in the vanity design will obviously depend on the individual and their needs, but a good foundation always stems from the chosen interior design style for the space. For a contemporary, modern, or transitional design, you'll want to limit the number of drawers around 3 to 4 to keep that minimalistic, clean appearance. The eclectic, rustic, and Moroccan styles are really where you and the designer can play around with the structure of the bathroom vanity and storage solutions. Going for an incredibly unique design opens the door to playing around with the quantity, layout, and style of drawers.
Adequate drawer space is important for maximizing usable space in a small bathroom. If you're open to exploring all the design possibilities available with the CliqStudios design team, there are several directions you could go. One possibility is two extra-large main drawers with finger pulls will create a seamless, sleek furniture piece. Another is a standard-sized bathroom vanity featuring drawers of varying sizes and a bold shade of paint for a nice pop of color. You can also go one step further and invest in high-quality drawer organizers to make the absolute most out of available storage space. No matter what's on your wish list, CliqStudios designers are equipped to create the perfect design that incorporates it all for you.
6. Over the Toilet Cabinet Storage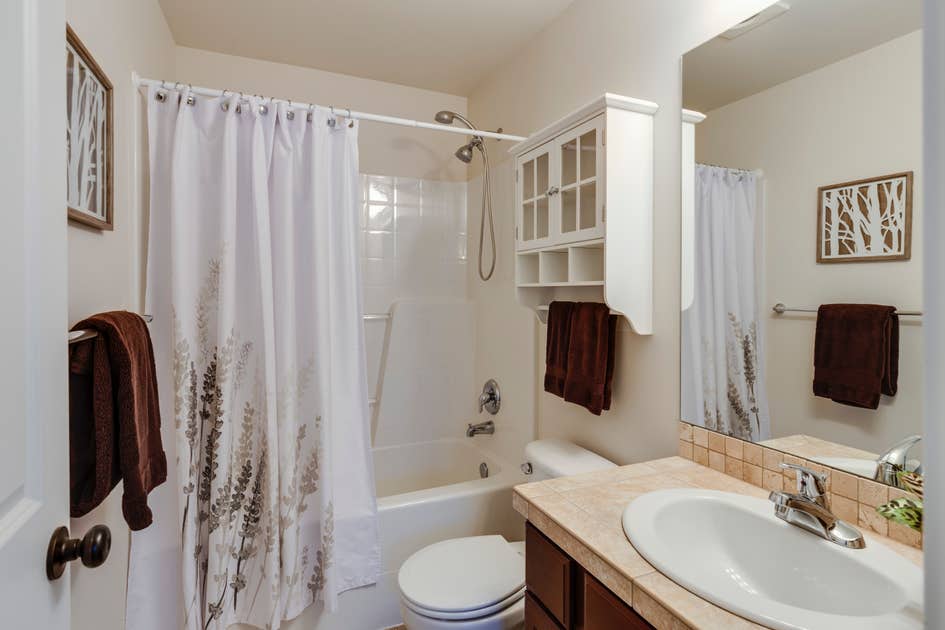 Like under the sink, wall storage for this bathroom will be minimal. If you have a particularly small bathroom to work with, consider installing a small storage cabinet over the toilet, ideally with 2 cabinet doors. This can be used for many different things from skincare to body care products but would also be beneficial for holding extra towels and sheets, especially if there's no nearby linen closet. It's a simple bathroom furniture idea and depending on the chosen materials and design, should fit into most renovation budgets without any issues.
Another great alternative to the small cabinet is a set of custom shelves installed on the wall, specifically above the toilet. Shelving instantly becomes both a storage solution and an area to display décor which really personalizes your space. If you want to display products on the shelves for easy access and don't mind them being visible, it's a terrific way to make the most of the space. To personalize even more, add décor such as a vase of flowers, decorative signs, or whatever fits your style.
7. Custom Shelving for a Powder Room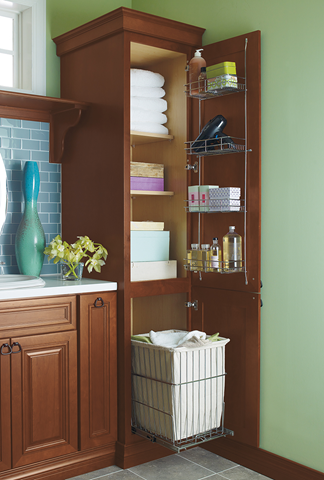 If you don't like the idea of storage above the toilet or don't have space needed for this kind of storage solution, there are other solutions. For instance, another choice is custom shelving between the sink and toilet. This bathroom furniture idea is extremely practical, especially for a client that has many bathroom products to store.
From a design standpoint, there are several routes that can be taken to incorporate everything needed to meet your standards. Typically, custom shelving is quite thin, widthwise, and in height. The specific dimensions of the shelving will depend on measurements of the bathroom provided by you to the designer. Match the shelves finish with the bathroom vanity design so the appearance of the entire space is cohesive. For example, a client that wants a farmhouse design will want to continue that into the shelving. Achieve this look by using a light neutral-colored shade of paint and add some weathering to give it that true rustic style.
Styling a Small Bathroom
Beyond the storage part and small bathroom furniture ideas, choosing the right styling elements for a small bathroom is of utmost importance. As mentioned before, it should align with the overall appearance of the rest of the home and check off as many wish list items as possible while supporting the integrity of the design.
Styling is really what brings a room together, and there are several points to consider when doing so. Effective styling should bring in aspects of your own style of life and create a space that you want to live in. For example, a curvy mirror, leafy wallpaper, bathtub shelf, and untraditional bathroom tile if you love an eclectic, bohemian style. On the other hand, if you align more closely with contemporary style, add in design elements such as polished faucets, a marbled shower, transparent storage solutions, and open shelving. Whatever suits your design preferences should be a priority, and bold features and décor should match the scale of your bathroom while not outdoing it.
CliqStudios' Project History
Our team of talented CliqStudios designers have seen countless bathroom renovation projects to completion in varying styles. From new construction to decades-old homes, master suites to dated kitchen and bathrooms, our team has done it all. These projects required the same design tactics and recommendations you see here and have created an in-home oasis.
Elegant White Bathroom Remodel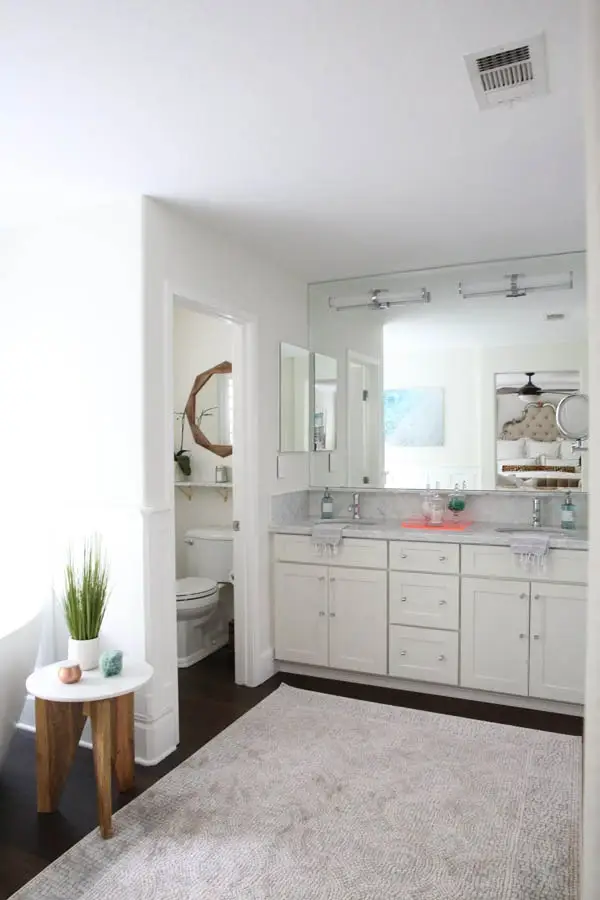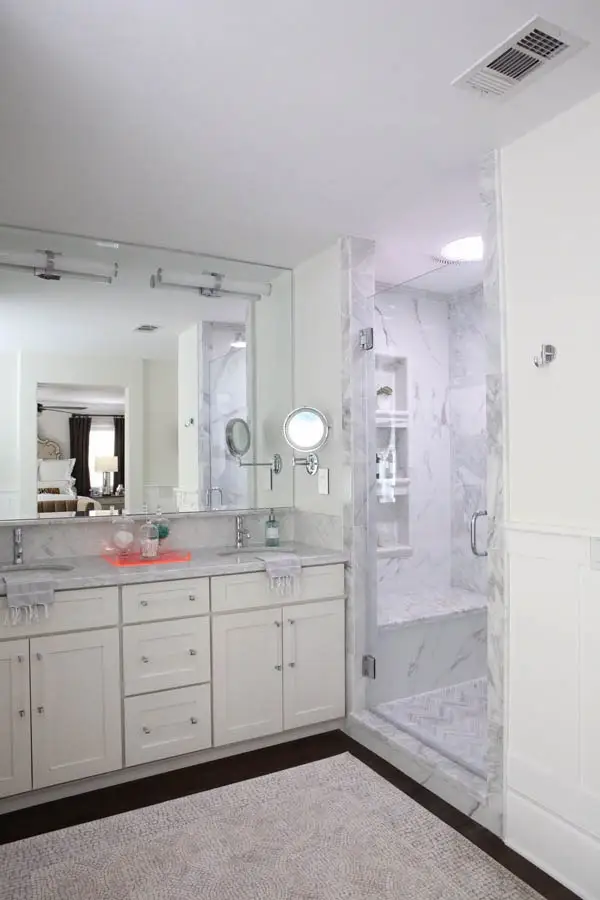 One of our designers' most luxurious remodels was a master bathroom that the client wanted to renovate with all-white design features to create a high-end look. Our kitchen and bathroom designers chose classic white shaker bathroom cabinets, white marble countertops, white and brass cabinet pulls for the hardware, and even moved the marble from the vanity countertops into the spacious walk-in shower. The shower continued the clean, modern look our designers chose with a transparent shower door, marbled herringbone tile floor, and the same white and grey marble as the countertops. A double vanity was chosen, with extra storage space incorporated in the form of drawers, and cabinet doors so all of their essentials could be hidden away. The clients were blown away and our designers were thrilled with the finished product.
Kitchen & Bath Reno for 60-Year-Old Home
A customer within our Pro Program requested CliqStudios' help remodeling a very dated home, which was first built about 60 years ago in Houston, TX. The cabinets that were chosen for the project were made of plywood, which allowed the designers and contractors to work around some of the 1960s charm and quirks of the home while giving the space a fresh look. The main kitchen cabinets are white shaker, while the kitchen island features dark birch wood, so it acts as a focal point in the design. The bathroom vanities were constructed using the same shaker cabinets that were featured in the kitchen, showing just how versatile these white cabinets are.
Updated Master Suite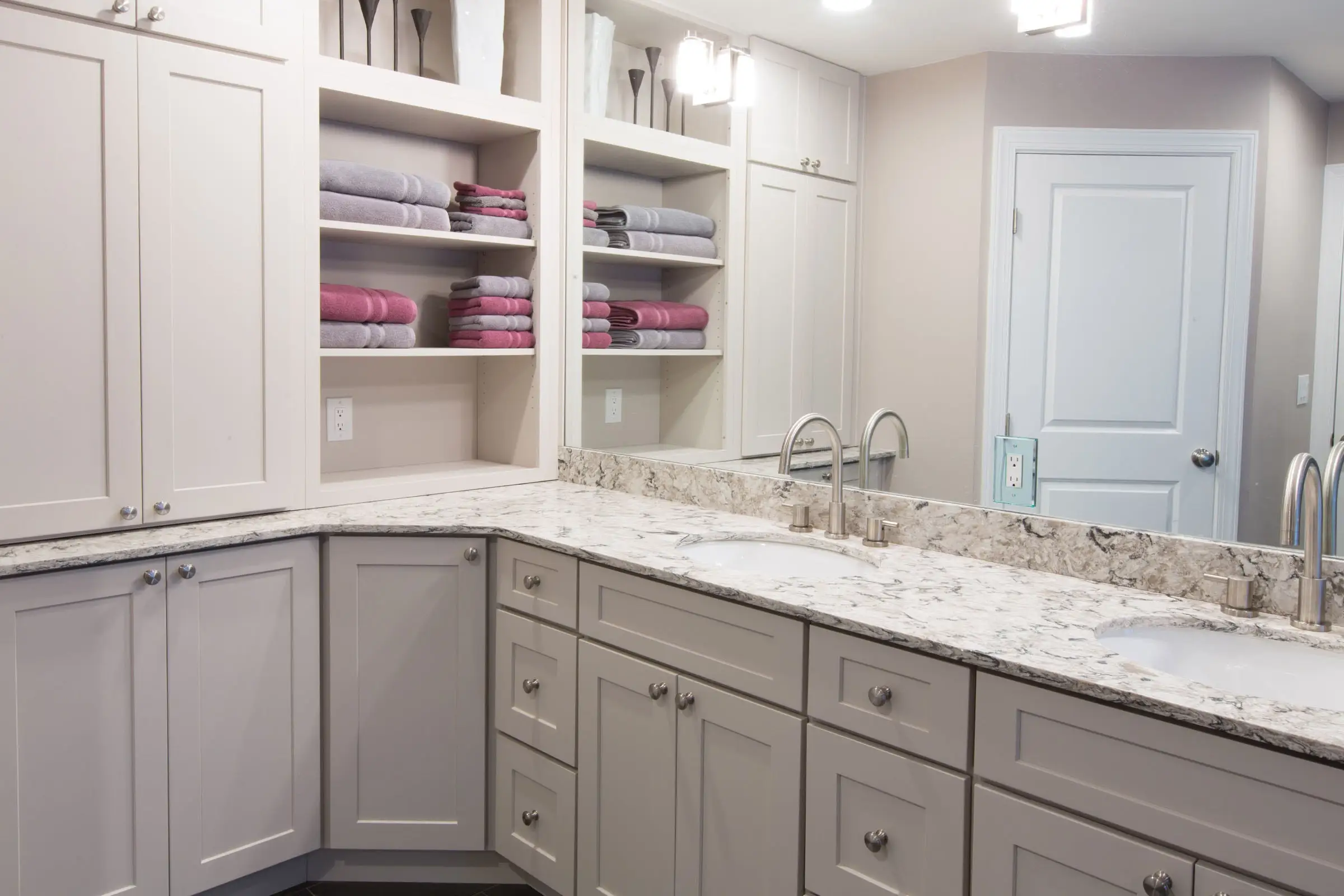 Well-designed and functional master suites are critical for making a client's house a home. Maximized storage with an intentionally designed feel should be exuded through every aspect of the design. Our design team went above and beyond to create a space that maximizes storage and looks beautiful while being incredibly practical for the client. One particularly unique element that CliqStudios' designers added was open shelving to the left of the double vanity to store towels, bedsheets, body care products, or whatever else this client needed. The designers also included an accessible area above these shelves which is perfect for displaying decorative items that add a distinctive touch to the space. Along with an extra-large mirror for getting ready, the bathroom supplies brushed nickel cabinet hardware and finishes, tan marble countertops, and generous storage space in the form of white shaker cabinets. This master suite went from drab to fab with uncomplicated design elements that can be used as inspiration for any great master bathroom.
No matter what your style is or what's on your wish list, you're well cared for with our team at CliqStudios. Between the designers' years of experience and industry ability, your dream bathroom renovation will come to fruition before your eyes. Our team can work with you to supply recommendations, answer questions, and design any room including small bathrooms to maximize your space.
Start Your Design Today!
Frequently Asked Questions
Which bathroom cabinets are available at

Cliqstudios

?
A variety of
bathroom cabinet
types, styles, and finishes are available at CliqStudios. We'll pair you with a designer that can help you with every aspect of the design process, from choosing cabinets to delivery and installation. Explore all the possibilities today and speak with someone on our team!
What is the price of bathroom cabinets on

cliqstudios

.com?
The exact price of bathroom cabinets from CliqStudios will vary depending on the cabinet type, cabinet style, and if any customizations are added to the cabinet design by request. The CliqStudios kitchen and bathroom designer you are paired with will be able to give you specific
figures
on what you can expect the overall cost to be based on the cabinets you select and your preferences.
How much time will it take to deliver

the bathroom

cabinets?
When placing an order with CliqStudios, please allow for a lead time of around 4-6 weeks for the construction of your bathroom cabinets and delivery. For orders with modifications or custom requests, please allow 5-7 weeks for manufacturing and delivery. When your order leaves the CliqStudios' facility, you will be notified and receive information regarding delivery time, and the contact details of your local delivery agent. If you have any questions or concerns, please reach out to
our
customer service
team
or your local delivery agent if you have specific questions regarding delivery or the delivery process.
Can I order sample bathroom cabinets?
Although we do not offer full size sample cabinets, we do offer up to 2 free cabinet finish samples per project. If you are struggling to decide which style or finish to choose for your project, this is
a fantastic way
to help you decide by seeing the finish in your actual space.
Does
Cliqstudios
offer customer support after bathroom cabinets are delivered?
Yes, even after your bathroom cabinets have been delivered to the address provided, our customer support team is available to assist you with any needs. If you need to request a claim
, or need
advice on installing RTA cabinets etc., the CliqStudios team is here to help.