Other than the kitchen, the master bath is the second most important room in your house. It's a space in which you spend quality time at least twice a day, if not more often. Obviously, you want it to be as pleasant, relaxing and functional as possible. If your current master bathroom misses the mark on these points, you might want to consider a remodeling project. So, whether that involves a minor or extensive bathroom remodel, you want to plan carefully enough so the updated bathroom you've envisioned actually lives up to your expectations.
To help you to that end, we're sharing a list of 5 things to focus on when considering and implementing a master bathroom remodeling project.
1. Set Your Budget
Determining your bathroom remodeling budget shouldn't be taken lightly or made hastily. How much are you realistically able to spend? This will help guide your decisions about what you want for your master bath remodel versus what you can afford. Once you determine a realistic budget amount, you can concentrate on only those items that your budget will allow. According to HomeAdvisor, and depending on your geographic location, bathroom remodels range from $2,500 on the low end to $25,000 for high-end renovations. However, the typical homeowner spends between $6,000 – $15,000. Again, everyone's need are different, so it's important to take your time planning this out.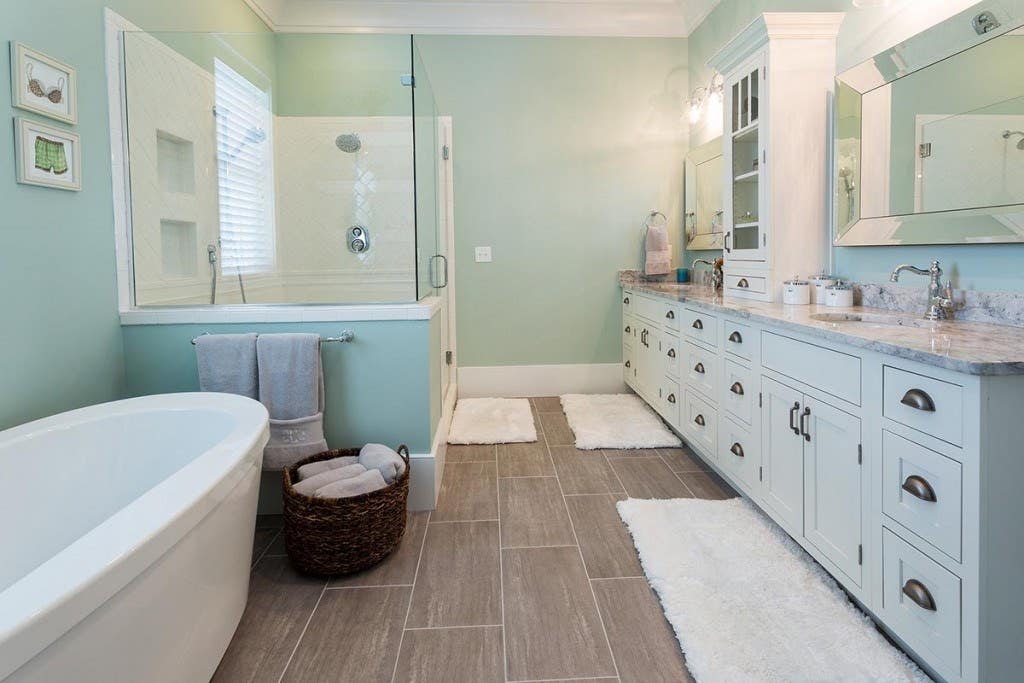 2. Assess Your Needs & Style
How do you use your master bath? Do you need a tub and shower or just a shower with a built-in bench? For households with older family members, consider a Universal Design that can accommodate people of all ages and abilities. If you're unfamiliar with the term, HGTV describes it as a design concept that includes "wider doorways, showers with no raised lip around the bottom, larger shower doors and more room around fixtures. Once thought of as industrial-looking, universal elements such as grab bars now blend seamlessly into even the most luxurious master bathrooms."
What about your personal style? Do you favor modern or contemporary? Think about this when choosing items such as fixtures, hardware, paint color, cabinets, and mirrors. Do you have enough space to do everything for your remodel? Take measurements and note where existing plumbing and electrical is to see if you need to do a more major renovation to fit all the updates you want.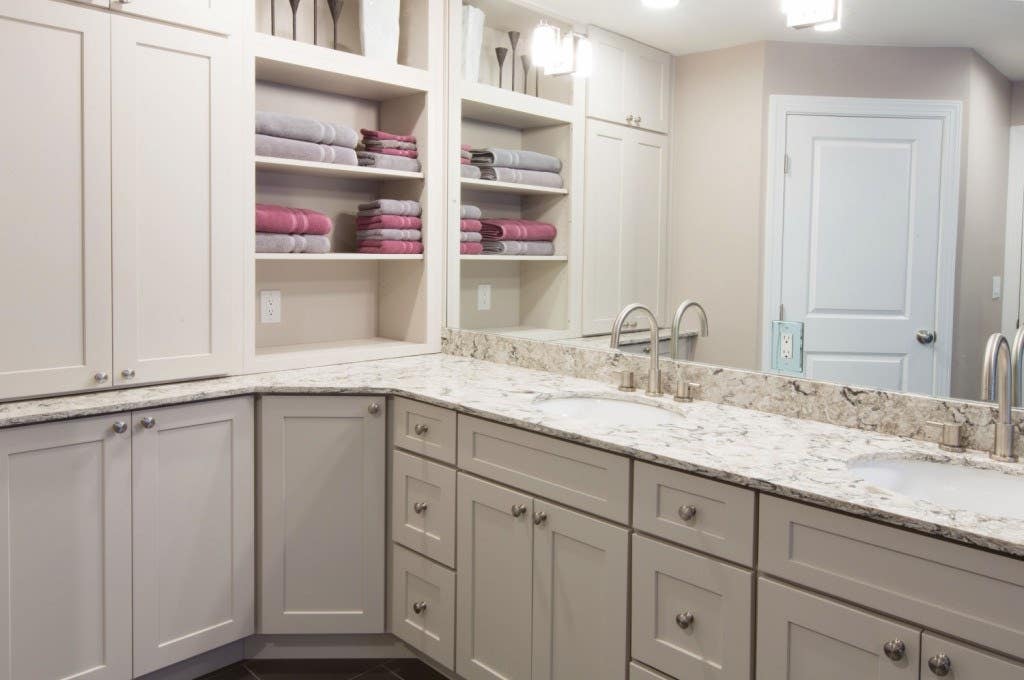 3. Note the Things Your Space Lacks
If you find yourself piling everyday items like hairdryers, contact lens cases, toiletries and towels on your countertops, you may have a storage issue. Look up! Think about adding vertical cabinets and/or shelves to keep these items out of site, effectively de-cluttering your bathroom.
Take a look at the bathroom's layout. Is it working for you, and does it flow with enough space for two people to use at once? The simple addition of a double-sink vanity goes a long way to increase efficiency. However, major changes to a master bath layout could involve moving and reinstalling or updating plumbing and electrical wiring.
4. To Update or Not to Update
Assess your current bathroom's vanity cabinets, all its fixtures and plumbing. Which is more important to you, two sinks or more counterspace? Check the state of your current cabinets to make sure they're still in good shape and durable enough to withstand a bathroom's ever-present moisture and humidity. Cabinets made with low-grade and improperly sealed materials will show obvious signs of wear and should be replaced. If your old laminate countertops are warped or cracked, granite or marble countertops should make their way into your budget.
If your toilet is outdated, it's probably not low-flush and environmentally friendly, and should be replaced. You'll save on your water bill, and avoid flooring damage should your old toilet start quietly leaking. Examine your bath and shower tiles closely to make sure they're in good shape and still stylish. Lighting fixtures are a simple fix to update. Adding more natural light with larger windows or skylights will add significantly to your overall renovation budget, of course.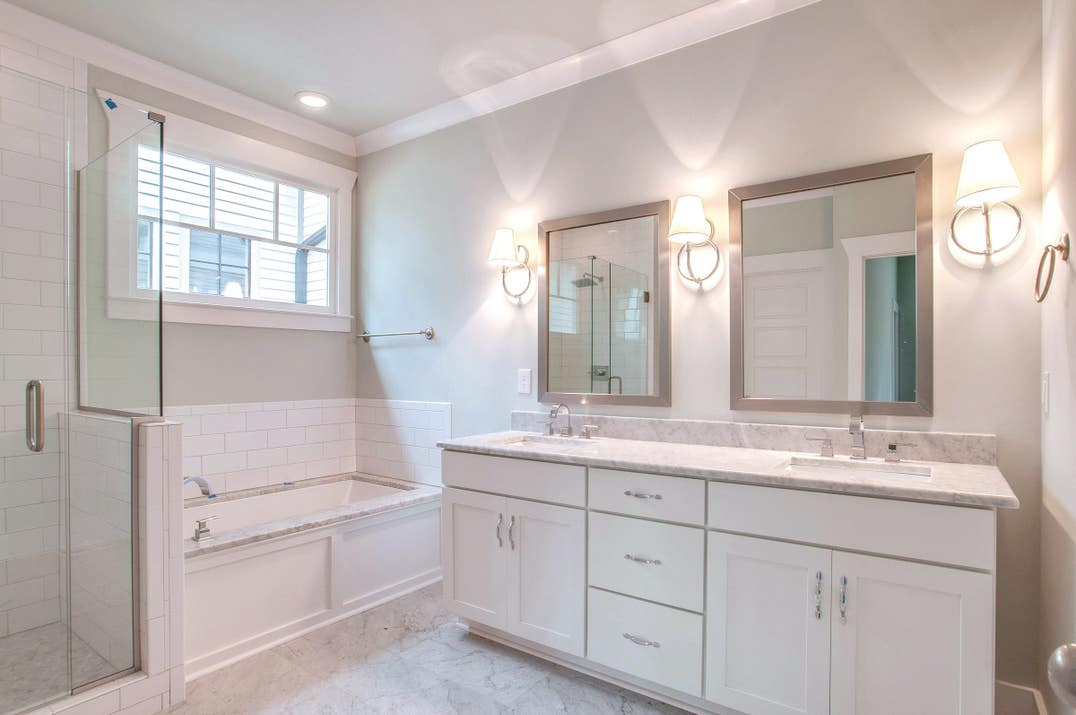 5. Hire A Contractor
Unless you're planning a DIY project, seek out a qualified contractor. Make sure you get at least three estimates, and do thorough research on each contractor. Check what satisfied (or unsatisfied) customers have to say in online reviews, but don't base your decision solely on them. Excellent online resources for finding the best contractors include Angie's List, HomeAdvisor, Houzz, and The National Association of the Remodeling Industry, or NARI. This association is a trade organization for remodelers. In order to get NARI-certified, contractors must possess years of demonstrated remodeling credentials and pass a code of ethics examination which tests "knowledge of the industry and a commitment to professional conduct."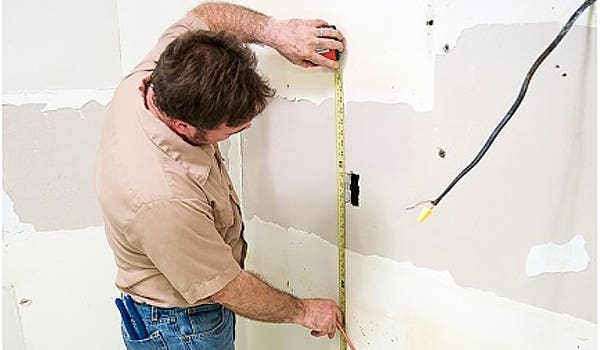 No matter the breadth and scope of your planned master bathroom remodeling project, a CliqStudios designer can help you decide on the best storage solutions and vanity cabinet options to fit your style. Even if your project is still only incubating in your mind, we can help bring those ideas to fruition. Our design services are free and there's no obligation to buy. Connect with us and let's get started!