This week Rachel Lupton, bstyle Interior Designer, and I are designing three kitchens. All three designs will house gourmet appliances for their amateur chef homeowners. We're assigned with creating kitchens featuring elements that also elevate the sophistication of the design. So, we're taking advantage of new trends to create upscale looks for these kitchens. Here's what we're doing.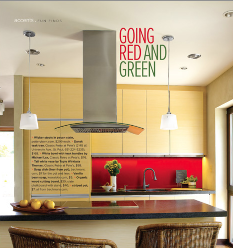 1. Mixed Materials
Blending woods, stone, and concrete with laminate or painted finishes helps any kitchen feel better designed. Kitchen cabinets and surfaces that are mixed feel purposeful, and often offset one another so you notice them. Therefore, we're talking with each client and finding surfaces that appeal to their style.
2. Separate Work Areas
The cooking area is separate from the refrigerator area, separate from the multiple oven and storage area. Moreover, we're creating separate areas with ample counter space available for creative cooking.
3. Special Design Touches
We want each kitchen to feel personalized for the homeowner and to reflect the design style of the rest of the house. We're giving each kitchen an inspiring design touch, such as a hand-carved stone tile backsplash, a special vaulted ceiling, or an oversized custom light fixture.
4. Natural Light
Natural light is important for kitchen design as it enhances the spaciousness, mood, and colors in the room. Every kitchen should take advantage of the outer walls and incorporate natural light as much as possible.
If you're remodeling, keep the footprint of your home in mind. Additionally, add windows or patio doors where possible.
For inspirational photos, head to our photo gallery or visit our Houzz page.
Interested in starting a kitchen or bath remodel? Talk to our designers about CliqStudios' free kitchen design today – 800.576.7930!