While Rachel and I were finishing up a couple of kitchens recently, a question was posed to us — what are the most important elements to a hardworking kitchen? There are a lot of elements that would require structural or appliance changes. Here are some that you can add quickly with just a few steps:
1) Bottles of oil and salts near the stove top
If you live with a cook or watch one on TV, there's always moment when they reach for the worn pepper grinder or a pinch of salt. Sometimes they grab an oil bottle to start a sauté or to finish a salad or pasta dish. It's nice to have these regularly used condiments handy nearby.
Try not to store them directly behind or above the stovetop. Everything that close to a heat source will literally cook as you cook your meal. All spices should be moved off to the side in a cool and dry place for longevity. Heat rises so choose a spot either to the left or right of the rising heat.
2) Lots of task lighting for prep and entertaining
One of the worst issues with older kitchens is the lack of light. Natural light is great to have, but when we entertain in the evening, we need task lighting as well. Add can or pot lights if possible throughout the task areas. Under counter lighting can be added after the kitchen cabinets are installed as well. By specifically lighting areas, you will also create ambiance and help yourself to see what you are doing.
3) Tools stored in the divided drawer or near the prep area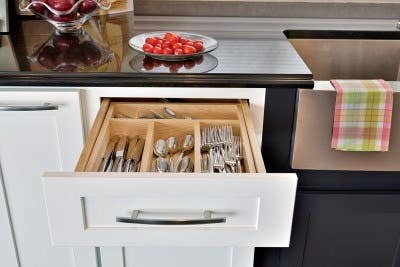 No one wants to hunt down his or her tools when starting a project. That's why on TV everything is already placed within reach to complete the task at hand. Save yourself this step by organizing your kitchen so you can grab and go. If your drawers are not divided, create dividers with silverware inserts.
4) Measuring cups and mixing bowls near the prep area
If you store your mixing bowls in a pantry, make sure to have them out before you start your project. We suggest storing them above your prep area if possible so that they are within reach. If a few are stored there, it will save the time and possible mess to go grab them while working on a recipe.
5) Stacks of clean dish towels stored near the sink
We have so many dishtowels, and we keep them in a drawer across from the sink. If I could add a drawer to the left or right of the sink, I would. This is because when one of us is standing at the sink looking for a clean towel, we reach across the walkway to the drawer in the adjacent cabinet. Water droplets are then all over the floor. Try to keep towels next to the sink where they will always be within reach.
6) Fresh herbs potted near the kitchen window
Not every kitchen has a window but if you do, it's a great place to grow your own herbs. Why not use your fresh herbs from your own garden when you can? We love rosemary, thyme, basil, parsley and oregano.
7) Fresh garlic and shallots stored on the counter in a cool, dry area
A bulb of fresh garlic is so easy to store and tastes so much better than garlic out of jar. We keep several bulbs along with shallots next to the cooktop so they are there when we start our sautés.
8) Hand soap next to the sink
Either a bar of soap or a pump of soap is a must have in a hardworking kitchen. Every time raw meat or chicken is handled, a good clean up is necessary for food safety.
9) Countertop cleaner standing by
We clean our counters often. Our favorite for the kitchen is a basil scent, and it seems to fit more than a pine scent. We keep the smaller spray bottle filled and on hand for quick clean ups.
10) Lots of electrical outlets for small appliance plug-in
All along under the cabinets there are plug-ins for our small appliances. We always have enough for whatever entertaining is at hand.